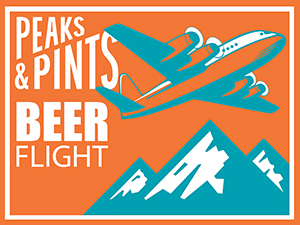 Unless you've been living in a cave, you know that it's Halloween. But then again, if you've been living in a cave, every day is fit for batty behavior, and today is no exception! Peaks & Pints is going to put the "eerie" in beerie, or something. Mix Master Chu Chu dropped by Peaks & Pints last week announcing he created a Spotify Halloween Playlist to pair with scary beers from our cooler for your listening (and drinking) pleasure. The beers and pairing songs are below with the actual playlist on Spotify — search "Peaks and Pints 2022 Halloween Beer Flight." Don your cape, grab a to-go order of Peaks sandwiches with these beers, call out your best Monster Mash buds, and push play on Peaks and Pints Pilot Program: Halloween Ear Beer Flight.
Peaks and Pints Pilot Program: Halloween Spotify Beer Flight
Bosk Goth Beach Party
4.5% ABV
Launch Michael Jackson's "Thriller" on the Peaks & Pints 2022 Halloween Spotify Beer Flight  to dance and drink with Bosk Brew Works' Goth Beach Party schwarzbier. Picture Robert Smith on the beach. That's how Bosk head brewer Will Lefevre likes to describe this black lager. It's soft, with moderate sweetness, mild smoke, dark toasted malt, chocolate, coffee, and a hint of toffee but finishes clean like a pilsner.
Firestone Walker Frieky Bones
6.3% ABV
"Addams Groove" is the re-imagination of The Addams Family theme, custom-written by MC Hammer (real name: Stanley Kirk Burrell), for the launch of the 1990s run of The Addams Family film series, which introduced a whole new generation of fans to the comically creepy characters. Frieky Bones is a re-imagination of Firestone Walker's long-treasured Krieky Bones, a classic Flanders-style kriek beer that they hadn't made for a few years, and that was due for a reprise. The brewery's Barrelworks' Master Blender Jim "Sour Jim" Crooks added twice the typical amount of Montmorency cherries (totaling 3.5 pounds of fruit for every gallon of beer), creating an incredible wild ale that doubles down on delicious fruit flavors. The Montmorency cherries came from King Orchards in northern Michigan, and they were selected by Crooks for their tart yet sumptuous character. The cherries were co-fermented with a base Flanders-style ale that had spent two years in an oak foeder, and the resulting elixir was matured in oak for another four months prior to bottling.
Boneyard Holy Bones
6.66% ABV
Select "Skeleton Sam" by LVCRFT on the Peaks & Pints 2022 Halloween Spotify Beer Flight and enjoy Boneyard Beer's Holy Bones Cascadian dark ale. The High Priest calls upon you to pass judgement on this ale; will it be the broadsword or the thurible? Quarrel or prayer? From the depths as a bock, add an ale yeast, hop the crap out of it — and the holiest of Bones has risen. Boneyard joined with Holy Mountain Brewing to brew this CDA with the slightest of toffee sweetness with a solid bitterness.
Rogue Dead Guy Ale
6.8% ABV
Oingo Boingo's "Dead Man's Party" is comprised of groovy guitar hooks, funky bass slapping, and a whole brigade of jazzy trumpets and saxophones. You won't have much trouble deciphering the lyrics as the vocals are easy to understand but a strange and creepy tone gives the music a darker edge. The Party becomes even better when paired with Rogue Ales' Dead Guy Ale brewed with Rogue's proprietary Pacman yeast, and features Pearl and Sterling hops for a robust take on the classic German Maibock. Although the beer's missing the style's bread crust, the present flavors are harmonious: Bread with toasted edges runs over the tongue before orange notes pop up. Hefty bitterness chases the swallow while peppery alcohol prickles the sip front to back.
Wayfinder Funeral Bock
7% ABV
"The Crypt Jam" is a rap performed by The Crypt Keeper (John Kassir) with music composed by Chuckii Booker. Yes, you read that correctly, The Crypt Keeper raps. And it's glorious. And it's even better when paired with Wayfinder Beer's Funeral Bock. Click the song on the Peaks & Pints 2022 Halloween Spotify Beer Flight and enjoy this double-decocted black bock brewed strongly with Münich and Roast malts and fermented extremely cold with Wayfinder's secret heritage lager yeast and finished with an excessive, hibernative lagering schedule.
Ladd & Lass Night Is Dark and Full of Terror
7.4% ABV
"Things That Go Bump in the Night," UK pop group Allstars contribution to the Scooby-Doo live action movie soundtrack, reached #12 in the UK in 2002 and barely missed the Hot 100. It's incredibly cheesy but also so damn catchy. Queue it up on the Peaks & Pints 2022 Halloween Spotify Beer Flight and toss back Ladd & Lass Brewing's Night Is Dark and Full of Terror Cascadian Dark Ale with boughs of piney hop goodness balanced with bright citrus zest and a touch of tropical punch.
Beer Zombies End 2 End Burners
8% ABV
"Zombie Delight" by Buck 65 is a song about the undead. The lyrics describe a world overrun by zombies, and the struggles of the survivors to stay alive. The song also features a few pop culture references, including to Michael Jackson's "Thriller" and George A. Romero's "Night of the Living Dead." Bring the song to life on the Peaks & Pints 2022 Halloween Spotify Beer Flight while drinking this super dank, incredibly juicy hazy double IPA that Beer Zombies Brewing smashed full of Cryo Citra and Galaxy hops for a big resinous blast of grapefruit, melon, lime, passionfruit, and lychee.
Nightmare Gunga Rao Sour IPA
8.3% ABV
Will Smith and DJ Jazzy Jeff's 1988 goofy but undeniably catchy double-album mixed hip-hop bona fides with an effervescent MC. The first song is the Nightmare on Elm Street parody "Nightmare On My Street" featuring the line, "He's burned up like a weenie/And his name is Fred." Click this song on the Peaks & Pints 2022 Halloween Spotify Beer Flight and drink a dour IPA brewed in honor of Alexander The Great and his fondness for elephants with blades strapped to their feet, which would viciously crush foes, a technique known as Gunga Rao. Nightmare Brewing has a fondness for exotic ingredients, which is such the case with their sour IPA, Gunga Rao. Soured on pineapple and coconut, the IPA is also brewed with Moroccan mint, and a hop blend of Sabro, Kohatu and Cashmere. The result crushes with the taste of a hoppy, tropical, fruit-forward gose.
Block 15 Story of the Ghost
8.7% ABV
Click Ray Parker, Jr.'s "Ghostbusters" on the Peaks & Pints 2022 Halloween Spotify Beer Flight and enjoy Block 15 Brewing's Story of the Ghost IPA. "Mysteriously brewed by ghostly bones under the pale gaze of a full moon, this spectral ale was left for our brewers to wonder over the following morn," states Block 15 Brewing Story of the Ghost hype. "Its ancient brewmaster tells a hoppy tale of tropical fruit and citrus, complemented by subtle floral, herbal, and pine notes. Together, this pungent blend will awaken your palate and reanimate your soul." Discover the story behind this ghostly double in Block 15's illustrated Story of the Ghost, created in collaboration with Pinetooth Press. Find it online at block15.com/ghost.
Silver City The Giant Made of Shadows
9.9% ABV
"Who's watching? / Tell me who's watching / Who's watching me?" sings Rockwell in his song "Somebody's Watching Me" on the Peaks & Pints 2022 Halloween Spotify Beer Flight. Peaks & Pints believes The Giant Made of Shadows is watching Rockwell. Silver City Brewery brewed this strong, dark, malty Belgian-style ale that's rich in dark fruit, caramel, and coffee character. Run from the shadows, not from the Giant.
LINK: Peaks & Pints cooler inventory
---