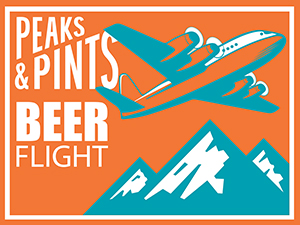 Savor it. We won't see a full moon on Halloween again for 19 years. On this fateful Halloween night, the stars will align to present us with a fittingly spooky full moon — and a "blue moon" at that. But don't expect a blue hue when you gaze up at the sky; the "blue moon" phrasing is more of a distinction, and less of a comment on the actual color. However, you can appreciate the rarity of the phenomenon. Because of assorted Leap Years and the moon's orbit, this 19-year cycle has been off by a day since 1944 — the last time there was a full moon on Halloween. After that, the full moon shifted to Nov. 1 … until this year. Peaks and Pints suggests you partake in a night hike to look for spooky beasties such as owls, bats, toads, scorpions (one can dream), and spiders tonight. You'll need spooky beer. Drop by Peaks & Pints and grab our to-go flight, Peaks and Pints Pilot Program: Halloween Hike Beers On The Fly.
Peaks and Pints Pilot Program: Halloween Hike Beers On The Fly
Nightmare Windlass of Erasmus
6.5% ABV
Nightmare Brewing out of Farmingdale, New York, names the delicious craft beers after forms of torture. Windlass of Erasmus is based more off of Nicolas Poussin's 17th century painting depicting the patron Saint of Sailors having his stomach slit open and his intestines wound around a Windlass. Nightmare's version is a gose brewed with blackberries, clackcurrants and Black Sea Salt or an approachable sour with Cabernet Sauvignon notes and blood-like color and viscosity. Expect earthy, cassis, light brine and back of the palate tartness.
Narrows Annabelle Hazy IPA
6.3% ABV, 15 IBU
The third entry in Narrows Brewing's Halloween series was inspired by one of their favorites favorite movies, The Conjuring, which is based loosel" on actual experiences of the Warren family: a ghost-hunting husband and wife team from the 1970s. Annabelle is an allegedly haunted doll in the occult museum of the Warrens, and is a reoccurring antagonists the the Conjuring Universe. Narrow's Annabelle is a hazy IPA brewed with malted wheat and hopped with Roy Farms Strata and Citra. With notes of strawberries and dank, it's so good, it'll follow you around the house
Evil Twin 2020 Recap
5% ABV
Halloween is supposed to a scary time of year. Even the horror movies that have become staples of the season aren't capturing our attention much anymore because they aren't half as compelling as our daily reality. Yo, Freddy! Lose the razor fingers. All you need to do is sneeze on your victims. "2020 has not been what we expected," states Evil Twin Brewing 2020 Recap hype. "That's why we made this pale ale predictably good for you to get through the new abnormal." Good, indeed. It's a rich, dank and citrus pale with a dry finish.
Rogue Dead Guy Ale
6.8% ABV, 40 IBU
Rogue Ales' proprietary Pacman Yeast Strain is alcohol tolerant, flocculent, attenuates well and will produce beers with little to no diacetyl. It's very mild fruit complements a dry, mineral finish making this a fairly neutral strain. Pacman's flavor profile and performance makes it a great choice for use in many different beer styles, including Rogue's Dead Guy Ale maibock. The addition of Pearl and Sterling hops makes for a robust take on the classic German beer. Although the beer's missing the style's bread crust, the present flavors are harmonious: Bread with toasted edges runs over the tongue before orange notes pop up. Hefty bitterness chases the swallow while peppery alcohol prickles the sip front to back. Plus, you know, Pac-Man was a dead guy. Bonus: shuffle through the Dead Guy cans as some are a white canvas for you to "Paint the Can Dead."
---