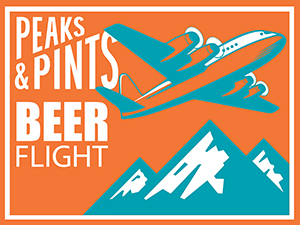 Another scary Halloween is upon us. And, once again, it's scarier than usual. We're dealing with a pandemic and have to watch out for deranged anti-maskers and deadly overcrowded spaces. It's enough to make you want to stay in and curl up with Food Network's Halloween Wars instead. Because of COVID, many plan to spend Halloween trapped in their houses. If Halloween is your time to thrive, you can still have a good ol' scary time at home. There are still pumpkins to carve, costumes to buy or make on your own, and scavenger hunts to be held inside the home and with members of the same household. Whatever you decide, you'll no doubt need scary beer to make it better. Peaks & Pints has rustled up a scary flight of to-go beer that we call Peaks and Pints Pilot Program: Halloween Beers On the Fly.
Peaks and Pints Pilot Program: Halloween Beers On the Fly
Firestone Walker Krieky Bones
5.7% ABV
Skeletons represent the finality of death. Skeletons have nothing left — their hair, skin, organs, every physical characteristic has long since rotted away; if they still have a personality that is vaguely human, it's trying desperately to cling on to something that it can never have again, an ultimately hopeless and futile endeavor. Almost everything else associated with Halloween — a vampire, a ghost, even a zombie in some respects — has various human qualities left about it. Skeletons are the final stage in which all humanity has finally slipped away, and nothing is left but bones, which is cool if the bones in question is actually Firestone Walker's Krieky Bones. This American wild ale is aged with Brettanomyces and sour bacteria in a 2,200-gallon French oak foeder (a kind of giant barrel). Then sour cherries (kriek) are added, and the beer fermented again. Sharp, acidic and pretty to look at, Krieky Bones provides hope.
The Lost Abbey Ghosts in the Forest
6.1% ABV
The forest is a majestic and magical place full of wonder and incredible creatures, of course, but the amazement also comes with a great degree of mystery. Ghost definitely live in the forest, and they definitely come in all sorts of shapes, sizes, species … and tastes. Slumbering for 18th months in a forest of massive oak foeders, The Lost Abbey's Ghosts in the Forest, a blonde sour, focuses on the complexity of Brettanomyces and oak. Ghosts in the Forest begins with a lemon tartness leading to hints of tropical fruit from the Brettanomyces with a refreshingly dry and lightly oaked finish.
Black Raven Second Sight Scotch Ale
6.9% ABV, 34 IBU
According to Redmond brewery Black Raven, "Ravens in the Scottish Highlands were once thought to possess the gift of second sight, the ability to see future events before they occur. Second Sight is built around malted barley with hops playing a balancing role. This beer is ruby in color with large malt aromatics, delicious malt flavors and a full-bodied finish." Indeed, this creamy Scotch ale hits with massive fruity sweetness of raisin, date and toffee notes then flies forever with a woody finish, slight peat and a slight alcoholic aftertaste, warming if you will. Complex and rich, it finishes with a whisper of smokiness that calls to mind sipping fine single malt scotch in a big leather chair while reading Edgar Allan Poe's The Raven.
Monkless Four Devils
9% ABV, 30 IBU
Devilishly smooth and light bodied, Monkless Belgian Ales' Four Devils Belgian strong golden ale fits in the flight not only because of its name, but also its sweetness is more "treat" than trick." The bouquet is sweet with a mild spiciness intertwining with a pleasant pineapple character. On the tongue, this classic dry golden ale is slightly fruity with a subtle earthy hop presence, and sticky-sweet across the palate.
Rogue Dead Guy Ale
6.8% ABV, 40 IBU
Dead Guy Ale has been around for a while, and to many people, it's the standard that all American-made maibocks are held to. Dead Guy Ale incorporates Rogue's proprietary Pacman yeast, and features Pearl and Sterling hops for a robust take on the classic German beer. Although the beer's missing the style's bread crust, the present flavors are harmonious: Bread with toasted edges runs over the tongue before orange notes pop up. Hefty bitterness chases the swallow while peppery alcohol prickles the sip front to back.
Triceratops Mrs. Voorhees Peanut Butter Milk Stout
8.1% ABV, 65 IBU
On a fateful day in 1957, Jason Voorhees, infuriated by the constant teasing and harassment from other children, snuck out of his summer camp cabin late at night to prove that he could swim. The counselors were not watching him, as they were at a party and fooling around in one of the adult cabins. Jason was never recovered from the lake and was presumably drowned. Mrs. Voorhees blamed the counselors for his death because she was working as the camp cook the day that it happened. In Friday the 13th (1980), Mrs. Voorhees blamed camp personnel for perceived wrongs, sometimes having a conversation with herself using two different voices, becoming rageful, and of course, killing. She went nuts and began killing camp counselors. Triceratops Brewing pays homage, or something, to Mrs. V with a chocolate milk stout brewed with Skagit Valley Malt, 25 pounds of peanut butter richness, combined with honey malt and milk sugar that provides a mild sweetness and a roasty backbone.
LINK: Peaks & Pints cooler inventory
---