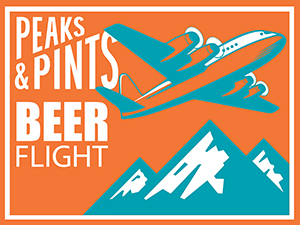 You can stick your zombies, stuff your vampires, and ram your Frankensteins where the sun doesn't shine. This Halloween is about one monster and one monster only-the chittering, flea-infested, nut-clutching, buck-toothed, beady-eyed demon-beast of the increasingly denuded urban treetop: our satanic friend the Proctor District Squirrel. You've probably noticed the little buggers getting extra excited — fighting, chasing each other, and squealing with devilish glee-as they scurry hither and thither in frenzied pursuit of their demonic master plan. Haven't you felt the sheer visceral thrill of squirrelishness crackling in the air like some sort of evil rodent electricity? Head to the Proctor District this weekend and see for yourself. Wait! Even better! Dress up like the Proctor District Squirrel this Halloween — you'd be nuts to dress up as anything else. Since you'll be in the neighborhood, stop by Peaks & Pints and grab the scary IPAs below — a to-go flight we're call Peaks and Pints Pilot Program: Halloween IPAs On the Fly.
Peaks and Pints Pilot Program: Halloween IPAs On the Fly
Prairie Phantasmagoria
8% ABV
Phantasmagoria was a form of horror theater that used one or more magic lanterns to project frightening images such as skeletons, demons, and ghosts onto walls, smoke, or semi-transparent screens, typically using rear projection to keep the lantern out of sight. Prairie Artisan Ales' Phantasmagoria is an IPA that is low in malt flavors, but high in hops. Prairie uses loads of citrusy and piney hops at the end of the boil and in the fermenter to make this beer a hop experience.
Beer Zombies Zombie of Dankness
8% ABV
A self-described beer geek, Chris Jacobs grew up near Chico, California, home to the craft brewing pioneer Sierra Nevada. After moving to Las Vegas in 1995 and overseeing various craft beer programs, he shifted gears to go all in on creating Beer Zombies — his own brand that now encompasses a contract brew, craft beer bottle shops in Las Vegas and Salt Lake City, a future brewery in the works, and an annual beer festival (temporarily put on hold due to COVID-19). The monthly Beer Zombies releases are contract brewed by California-based Mason Ale Works, but in early 2022 Jacobs plans to open his own 15-bbl brewery. His Zombie of Dankness is a West Coast double IPA with Amarillo, Mosaic, Citra, Simcoe, and El Dorado hops for grapefruit zest, tropical fruits, and pine.
Abomination Wandering Into The Fog (Galaxy)
8.6% ABV, 12 IBU
Pennsylvania's Abomination Brewing Kickstarted as a "gypsy brewery" in 2017 and hasn't looked back. Each beer in its Wandering Into The Fog hazy double IPA series is brewed with the same heavy wheat and oat malt bill, plus hopped and double dry hopped aggressively. Their Galaxy version sees 7-plus pounds of Mosaic, Pacific Jade, Citra, Summit, and a ton of Galaxy for notes of passionfruit, citrus, peach, and some mild grassy herbal spice.
Block 15 Story of the Ghost
8.7% ABV
"Mysteriously brewed by ghostly bones under the pale gaze of a full moon, this spectral ale was left for our brewers to wonder over the following morn," states Block 15 Brewing Story of the Ghost hype. "Its ancient brewmaster tells a hoppy tale of tropical fruit and citrus, complemented by subtle floral, herbal, and pine notes. Together, this pungent blend will awaken your palate and reanimate your soul." Discover the story behind this ghostly double in Block 15's illustrated Story of the Ghost, created in collaboration with Pinetooth Press. Find it online at block15.com/ghost.
450 North Spooky Goo
? ABV
450 North Brewing only brews this quadruple dry hopped quadruple IPA for their anniversary releases. It's hopped with Citra Cryo, Nelson Sauvin, Mosaic, and Simcoe for notes of herbal dankness. It's the easiest drinking quad IPA we've ever tasted, but technically we can't prove it's a quad as the ABV isn't listed on the can not the brewery's website.
LINK: Peaks & Pints cooler inventory
---