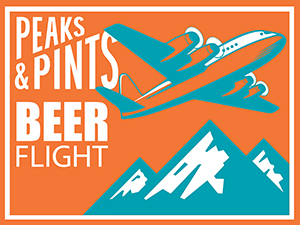 Born in the Hallertauer region of Bavaria, Germany, the Hallertau hop is found most commonly in German lagers, altbiers (German style brown ale), and Belgian ales. German hop researchers continue to tinker with the hop, creating a variety of strains. The hop usually has a second designation to denote where the hop is grown — the most common of these cultivars is the Hallertau Mitterfruh. Hallertau is one of four noble hops (also including Saaz, Spalt, and Tettnang), meaning that it grows in the wild rather than is selectively bred. Noble hops are best known for their flavor and aroma properties, thanks to low alpha acid content, and the Hallertau hop is no exception. Hallertau imparts notes of earth, grass, and nectar fruits on the nose, as well as subtle spicy flavors. Today, Peaks & Pints shines the spotlight on Hallertau in our to-go flight, Peaks and Pints Pilot Program: Hallertau On The Fly.
Peaks and Pints Pilot Program: Hallertau On The Fly
Aslan Das Boot
5% ABV
This year Aslan Brewing brewed their seasonal festbier with Smaragd hops, a descendant of Hallertau Mittelfruh, which is a hop steeped in German brewing tradition. This hop provides a delicate floral and peppery note that balances the malt profile. The combination of Pilsner and Munich malt contributes flavors of toast with honey and fresh dough.
Block 15 Gloria!
5% ABV
Blending delicate malt character and zesty hops, Gloria! is Block 15 Brewing's vision of the crisp, unfiltered pilsner. Brewed with floor-malted pilsner malts, it pours a hazy, straw-colored pint. Magnum, Hallertau, Oregon-grown Mt. Hood and Czech Saaz hops impart citrus, grass, and floral spice, while Czech Pilsner yeast finishes clean and refreshing. Packaged after four weeks of cold lagering, this snapshot in flavor and aroma will last for a couple weeks, when stored cold. With extended cold storage, Gloria! mellows out to further balance these lively hop and yeast notes with its intricate malt backbone.
Fair Isle Alicel
5.3% ABV
Fair Isle Brewing has released their second batch of their saison Alicel brewed with the workhorse hop variety at the Seattle Ballard neighborhood brewery, Hallertau Mittelfruh, and this beer puts those classic floral and spicy aromas on full display. German-grown Hallertau from Crosby Hops, along with Perle on the hot side both lend notes of ripe cucumber, dried geranium, and an herbaceous undertone. A simple grain bill of Francin Pilsner and malted White Wheat from Linc Malt set the stage for this ode to classic noble hops.
Great Notion Ledge Bier
5.5% ABV
In 2016, Great Notion Brewing opened in Northeast Portland and opened the city's eyes. Owners James Dugan, Andy Miller, and Paul Reiter basically freaked out the city known as Beervana with their New England-style IPAs and boundary-pushing culinary-style beers. Great Notion also brews pilsners. Their Ledge Bier is a German style pilsner brewed with Hallertau and Saaz hops along with Barke and Pilsner malt. It sports the classic noble hops derived aroma of floral, spicy, and perfume-like notes, followed by a crisp body with layers of bread dough, light cracker, grass, lemon, and lemon zest.
Headless Mumby German Pils
5.9% ABV
In November 2018, Alex Maffeo and Keith Ciani opened Headless Mumby brewery and taproom in west Olympia, specializing in lagers. Headless is a salute to the song "Roland the Headless Thompson Gunner" by Warren Zevon. Ciani is a rabid fan. Mumby is a reference to a defunct logging and shingle mill from the early 1900s, which operated in the area where Maffeo now lives. Brewed with 100 percent German pilsner malt and finished with Hallertau hops Headless Mumby's German Pils is a light and crisp pilsner with a pleasant lingering bitterness.
LINK: Peaks & Pints cooler inventory
---