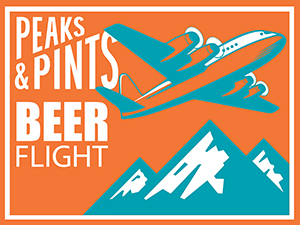 Barrel aging is totally a thing. Well, it has been for centuries. Before industrialization, Europeans fermented beer in wood, stored and shipped in wood, and poured directly from wood. Beer spoiled often. Life was hard. By the mid-20th century, most breweries had happily traded their temperamental wooden barrels for the reliability and convenience of metal tanks. Beer spoiled less. Life was decent. However, brewers have long known that wood-aging can add flavor and depth to beer, especially if said barrel previously contained Kentucky bourbon, Jamaican rum, or Washington state wine. The result is a beer more complex than most, as additional flavors bleed from inside the staves — deeper woody notes that play to a beer's bass and an extended taste that finishes with a nip of booze. Today, Peaks & Pints highlights stouts that have been aged in bourbon barrels in a to-go flight we call Peaks and Pints Pilot Program: Barrel-Aged Stouts On the Fly.
Peaks and Pints Pilot Program: Barrel-Aged Stouts On the Fly
Old Schoolhouse Blazing Barrels
11.5% ABV
Aging a stout in used port barrels adds fruity flavors, making the beer taste like chocolate covered cherries. Aging a stout in used whiskey barrels adds notes of caramel, vanilla, and hints of chocolate. Blending a stout with barleywine can add a really pleasant cherry pit, almond characteristic that isn't apparent in either of the parent beers. Aging an Old Schoolhouse Brewery stout in port barrels, Woodinville Whiskey barrels then blending it with a 10-percent barleywine makes for a unique, intense, and delightful beer.
pFriem Bourbon Barrel Aged Imperial Stout
11.5% ABV
pFriem Family Brewers' Bourbon Barrel Aged Imperial Stout absorbs the tannins of Oola Distiller's Bourbon barrels for a full year, resulting in a midnight black color topped with a dense, creamy, and chocolate mousse foam. Powerful aromas of cocoa, caramel, coconut, toasted oak, and chocolate covered berries hit the nose, followed by big flavors of ripe cherries, red velvet cake with a hint of char and a touch of Bourbon. It finishes with a kiss of oak tannins and a mouth coating richness.
Boulevard Magic Drip
13.5% ABV
Magic Drip begins as a rich wheated imperial stout featuring pale, dark, and crystal malts, plus Magnum hops and Colombian dark roast whole bean coffee from Messenger Coffee. Boulevard Brewing then ages it from 8-18 months in various bourbon casks, each barrel bringing its own personality of vanilla, oak and char. The fusion of the sweet and boozy imperial stout base alongside rich coffee and boozy bourbon casks makes for a balanced beer of rich chocolate and coffee, vanilla, whiskey, and toasted oak.
Reuben's BBIS 2021
14% ABV
Reuben's Brews' Bourbon Barrel Imperial Stout, or BBIS, has been years in the making. The majority of the barrels in this year's blend have been aging for about one year, and the addition of some 2-year-aged BBIS into the blend adds layers of complexity. The Seattle brewery barrel ages this stout in a blend of 10- to 12-year bourbon barrels. Using the same oat-forward and British specialty malt recipe that hails back from the original version brewed in 2013, they introduced some new techniques to make the beer bigger, richer and silkier. It hits the nose with warming aromas of cocoa, milk chocolate, and bourbon. The sip offers a silky mouthfeel, with vanilla and rich milk chocolate mid palate with background notes of smoke, licorice and coffee wrapped up with some cherry liquor at the finish.
LINK: Peaks & Pints cooler inventory
---