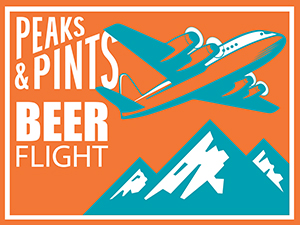 Craft beer enthusiasts strolling along the Peaks & Pints cooler are in for a scare — and it's not one of those Grains of Wrath Brewing cans, although it could be. Skeletons suddenly have invaded our craft beer lodge in Tacoma's Proctor District. These mysterious characters come courtesy of Great Notion Brewing, the Portland, Oregon, brewery, and their talented illustrator, Chad Eaton. In addition to the bears and Sasquatches, Eaton draws a skeleton named Moss on their hazy IPA cans. Skeletons, our internal structure, are meant to be hidden, which makes them spooky to see — even if they're playful on the Great Notion cans. Today, Peaks & Pints exposes Moss in a Great Notion to-go beer flight we like to call, Peaks and Pints Pilot Program: Great Notion Skeleton Beer Flight.
Peaks and Pints Pilot Program: Great Notion Skeleton Beer Flight
Great Notion Ripe
7% ABV, 55 IBU
In 2016, Great Notion opened in Northeast Portland and opened the city's eyes. Owners James Dugan, Andy Miller, and Paul Reiter basically freaked out the city known as Beervana with their New England-style IPAs and boundary-pushing culinary-style beers. The awards followed: World Beer Cup, GABF, Best of Craft Beer Awards, and Oregon Beer Awards, as well as the 2018 #1 IPA in America from Paste Magazine, Ripe IPA, a 100-percent Citra hopped hazy IPA that brings flavors of fresh squeezed OJ, dank papaya, and tropical mango, slowly fading into pithy bitterness.
Great Notion Over Ripe
7% ABV
Great Notion Over Ripe is a fruited hazy IPA dripping with juicy mangosteen. Mangosteen (Garcinia mangostana) is an exotic, tropical fruit with a slightly sweet and sour flavor. It's originally from Southeast Asia but can be found in various tropical regions around the world. Over Ripe is an experimental IPA brewed with a unique blend of hops and tropical fruit. This beer is saturated with flavors of over ripe fruit like cantaloupe, guava, pineapple, and papaya.
Great Notion Call Waiting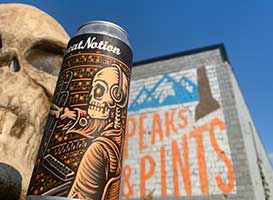 6.3% ABV
"Thank you for contacting Great Notion — your call is important to us! All of our operators are currently busy enjoying this hazy IPA brewed with a new experimental product derived from Mosaic hops. Loaded with notes of blueberry, citrus and … hi, thank you for holding, are you ready for some more Call Waiting!" What was once a pilot batch is now a fully released hazy IPA brewed with pale malts and dry-hopped with Mosaic and Citra.
Great Notion DDHHDD
6.5% ABV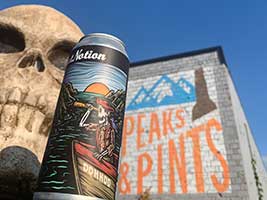 The skeleton on the Double Dry Hopped Hopped Dry Double hazy IPA can is seen traversing the high seas of hops, mapping the coastline from back to front. Double dry hopped with Citra, Amarillo, Galaxy, and Nelson Sauvin, this daringly IPA arrives with tangy citrus, berry, floral and herbal hoppiness.
LINK: Peaks & Pints cooler inventory
---