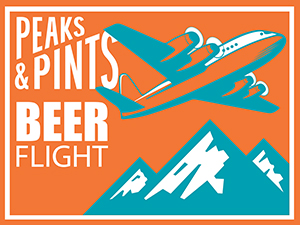 While some folks are be fighting car and foot traffic on this Black Friday, others are engaging in a different sort of darkness. Today marks the last night of Peaks & Pints' Dark Side of Thanksgiving — a week-long celebration of dark, mostly imperial brews. Today will no doubt be the best day as we can officially release Goose Island Beer Company's Bourbon County Stout 2020  and its variants. This year's original BCBS — we call it the Basic Black at Peaks — is, like most of the entire Bourbon County 2020 lineup, ringing in at just over 14 percent (or just under, depending on which barrel your bottle came from). Since we cap the limit at two each of BCBS 2020 and one each of the variants, technically we have a to-go flight that we call Peaks and Pints Pilot Program: Goose Island Bourbon County 2020 On The Fly.
Peaks and Pints Pilot Program: Goose Island Bourbon County 2020 On The Fly
Goose Island Bourbon County Brand Stout 2020
14.6% ABV, 60 IBU
Goose Island has been producing Bourbon County Stout since 1992, long before Anheuser-Busch InBev acquired the brewery in 2011. The Chicago craft brewery began packaging the stout in 2005 and first experimented with variants in 2009. The tradition of introducing it on the day after Thanksgiving began in 2010. This year's Bourbon County Stout is aged in a mix of bourbon barrels from a variety of whiskey distilleries. Barrel-aged for a year to develop the complexity that only time can provide, Bourbon County Stout boasts a unique blend of flavors such as fudge, vanilla and caramel — topped off with a rich, complex mouthfeel.
Bourbon County Special No. 4 Stout
13.3% ABV
Bourbon County Special #4 Stout is an oatmeal stout variant of Goose Island's original Bourbon County Stout recipe, also aged in bourbon barrels, which incorporates crystal oats to add a nutty character and a smooth mouthfeel. After barrel aging, the brewers add Intelligentsia Coffee, both their cold coffee and single origin coffee beans from Ethiopia, called "Metad Buku," to bring out a pleasant fruity coffee character. Lastly bourbon barrel-aged maple syrup from Bissell Maple Farm in Jefferson, Ohio is added, which provides complexity to the nutty oats and coffee to round out the flavors.
Bourbon County Kentucky Fog Stout
14.1% ABV
Goose Island debuts their first-ever tea-inspired variant. Brewer Paul Cade brought this idea to life, inspired by his girlfriend, Martha, who prefers tea over coffee. Bourbon County Kentucky Fog Stout is a take on the London Fog tea drink, which is a brewed cup of strong earl grey tea along with a pinch of lavender strained and combine withsteamed milk, and a dash of vanilla. With that flavor profile in mind, Goose added Earl Grey Tea and Black Tea from Kilogram Tea, as well as clover honey from The Honey House, to make a Bourbon County Stout variant with sweet bourbon notes and hint of mellow tea leaf.
Bourbon County Caramella Ale
14.6% ABV
Goose Island Lead Lab Analyst Joey Tidei created this variant as a tribute to his love of seasonal flavors, especially caramel apples.  Caramella, or "candy" in Italian, is a wheatwine aged in Larceny Wheated Bourbon barrels with apple, cinnamon, and natural caramel flavor added after aging. Just like last year, the sweet smoothness from the Larceny Wheated Bourbon barrels adds a lingering warmth that complements the added flavor nuance.
---