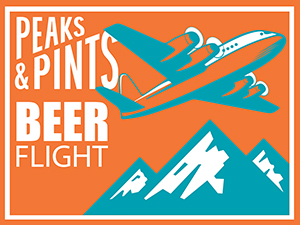 By time Peaks and Pints opens today at 11 a.m., your NCAA Men's Basketball bracket will likely be in the garbage. These are the facts of March Madness. Therefore, you should focus on something eminently achievable: drinking beer. The good news is Gonzaga will face off against Creighton in the Sweet 16 this morning. The Gonzaga Bulldogs will play in their sixth-straight Sweet 16. This is Creighton's first Sweet 16 appearance since the NCAA Tournament expanded to 64 teams in 1985. William Hill Sportsbook lists the Bulldogs 13.5-point favorites, but stranger things have happened. It's not called March Madness for nothing. Peaks & Pints will have the game on all our screens, or you could grab our to-go flight of Eastern Washington beers — Peaks and Pints Pilot Program: Gonzaga On the Fly — and watch at home. Go Zags!
Peaks and Pints Pilot Program: Gonzaga On the Fly
Iron Horse PB & Death
6.53% ABV
Ellensburg, Washington's Iron Horse Brewery is an iconoclastic brewery. They're not ones to copy/paste a style into their profile just to compete with the Irish beer giants. Quilter's Irish Death was born of a reverence to the dry Irish stout. Created by the Iron Horse Brewery founder Jim Quilter, this craft beer has been called a sweet stout, strong ale and Scotch Ale. We call it delicious with a massive amount of chocolate malt that goes down easy. Then, Iron Horse added peanut butter to the Death for sweet, toasted peanut butter goodness.
No-Li Porch Glow
5% ABV
What began as Northern Lights Brewing back in 1993 became the multiple award-winning No-Li Brewhouse on the banks of the Spokane River in downtown Spokane. The brewery that created "Spokane Style" beers has a mantle full of craft beer awards such as Great American Beer Festival, Japan International Beer Competition, Brussels International Beer Competition, European Beer Star Competition, National Beer & Wine Wholesalers Association and five medals at the 2016 Washington Beer Awards including Large Brewery of the Year. Their Porch Glow has an added a touch of Chocolate malt to this lager-like amber with just enough hops to keep it balanced. It's slightly fruity with a hint of roasted malt that finishes crisp and refreshing.
Varietal Returning Sun Blood Orange IPA
6.2% ABV
Chris Baum, John Cope, Chad Roberts, David Paulson, and Karl Vanevenhoven opened Varietal Beer Co. in April 2018 in the Port of Sunnyside between Yakima and the Tri-Cities in Eastern Washington. Their Returning Sun Blood Orange IPA is their most requested rebrew this year, featuring blood orange purée during fermentation, then a dry hop of blood orange zest, Comet, and Cashmere hops for a lovely blood orange flavor with just the slightest hoppy finish.
Single Hill Fundamental Tone
6.6% ABV, 45 IBU
In August 2016, Ty Paxton and Zach Turner opened Single Hill Brewing in an old JC Penney Tire Center in downtown Yakima. The two first met at a cider pressing party that a mutual friend was hosting in 2013. Three years later, over pints at Bale Breaking Brewing, the two hatch the idea for a community-based brewery in a town dear to their hearts. Exploding with flavors of pineapple, grapefruit, and nectarine, Fundamental Tone dips back into the resinous bite of old school IPAs and takes it all to a new dimension.
Bale Breaker Leota Mae
6.2% ABV, 50 IBU
"A strong woman exudes confidence and self-respect. She's often regarded as the 'alpha female' within a group and lights up any room she enters. She knows what she wants and is in control of her life. I respect that. Everything I've read paints a picture of Leota Mae being a strong female. She's the great-grandmother to the family running Bale Breaker Brewing in the Yakima Valley. The matriarch of their family, she worked sunrise to sunset cultivating the land they still farm today. This sweet malt, crisp citrus hop IPA is a delicious tribute. Oh, and my camping buddies and I drank a bunch of it in Leavenworth two summers ago. It's so f—ing delicious." — Peaks and Pints bartender Nicole Allen
---