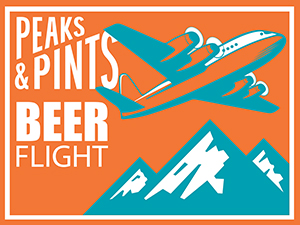 Galaxy hops are known among IPA lovers for their overflowing citrus, peach and passion fruit flavors. Tropical island aromas dominate the nose, lifting you away to a far-off destination of flavor, like the coast of Australia, where these hops are grown since the mid-1990s, but released commercially in 2009. This Aussie-native hops hail from a lineage of male European cultivars — particularly Perle —bred with local Australian high alpha varieties. Galaxy hops are versatile; they can accent and compliment or take center stage as the primary flavor. Their high alpha acid content makes them especially suited to aroma hopping and the distinctive mixture of citrus, passionfruit, peach and hints of grass is sure to stand out. But don't take our word for it, explore the Galaxy for yourself with our to-go beer flight Peaks and Pints Pilot Program: Galaxy On The Fly.
Peaks and Pints Pilot Program: Galaxy On The Fly
Wander Galaxy Single EyePA
6.4% ABV
The conical, green flowers of the Humulus lupulus species provide not only a vast array of flavors for beers but also create distinctive aromas, varying levels of bitterness and lend a hand with preservation duties. Until recently you would struggle to find anyone who could name the hops used in their favorite beer, but these days the varieties take center stage, emblazoned across beer labels, allowing discerning drinkers to use them as a guide to what they should order next. Often brewed as occasional "specials", single hop beers help spread the knowledge of each individual variety and demonstrate a brewer's skill, as they try to wring as much complexity of flavor as possible from each hop addition. This 100 percent Galaxy hopped hazy IPA was brewed with Wander Brewing's entire stash of Galaxy for complex and tropical with rich guava, passionfruit, and blood orange aromatics paired up with an extra soft body.
Diamond Knot Multiplayer Hazy IPA
6.7% ABV, 34 IBU
It usually takes two to tango for collaboration, but 47 Washington state breweries hit the dance floor for the Multiplayer Guild Collab IPA project, a beer collaboration to benefit the Washington Brewers Guild. "We're excited to join so many great Washington breweries to celebrate the spirit of community and help benefit the Washington Brewers Guild in the process," states the Diamond Knot Brewing ownership. Their version is a double dry hopped hazy IPA with copious amounts of Citra and "Down Under" Australian Galaxy. Expect an eruption of sweet pineapple and fresh floral aromas followed by a satiny mouthfeel, plus sweet undertones delivered by the complex malt and hop combination.
Barlow's Freetyle Rippin'
6% ABV, 35 IBU
Barlow's Brewery sits on Southeast Mill Plain Boulevard in Vancouver, Washington, which is operated by Eric Van Tassel and Bryan Hochrine, who came from Fat Head's and Von Evert Brewing, respectively. They launched their Freestyle Rippin' experimental IPA series with this hazy brewed with Galaxy, Amarillo, and Mosaic hops. It's soft and citrusy with a subtle hop bitterness.
AleSmith Oso Under
7% ABV
Artisanal brewing company AleSmith was born out of the San Diego craft beer boom in the 1990s. They have been consistently ranked on RateBeer's list of best breweries in the world for years. Recently, AleSmith teamed up with another old California brewery, Alvarado Street Brewery of Monterey, to brew a West Coast style IPA with loaded with Australia and New Zealand hops Galaxy, Vic Secret, and Nelson hops. The result is a clean, dry IPA with notes of passionfruit and mild tropical fruit fruitiness, plus a pine and light dank backing.
Crux Cast Out India Pale Ale
7.6% ABV, 60 IBU
Crux Fermentation Project's Cast Out IPA features the Galaxy hop from Australia; a country famously populated by England's cast out convicts. Cast Out IPA employs these hops aggressively from hop back to dry hopping stages. Yet the result is a balanced and bronzy ale, with medium hop bitterness complemented by moderate maltiness, showcasing aromas and flavors reminiscent of passion fruit.
Abomination Wandering Into The Fog (Galaxy)
8.6% ABV, 12 IBU
Pennsylvania's Abomination Brewing Kickstarted as a "gypsy brewery" in 2017 and hasn't looked back. Each beer in its Wandering Into The Fog hazy double IPA series is brewed with the same heavy wheat and oat malt bill, plus hopped and double dry hopped aggressively. Their Galaxy version sees 7-plus pounds of Mosaic, Pacific Jade, Citra, Summit and a ton of Galaxy for notes of passionfruit, citrus, peach, and some mild grassy herbal spice.
LINK: Peaks & Pints cooler inventory
---