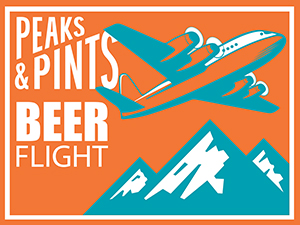 Brett makes us smile. Peaks & Pints, of course, refers to Brett Somers and Brettanomyces — two of the best Bretts to ever grace this planet, and the focus of our beer flight, Peaks and Pints Pilot Program: Brett On The Fly.
On this date in history, 1924: Brett Somers was born Audrey Johnston in New Brunswick, Canada, but grew up in Portland, Maine. She ran away from home at age 17 and headed for New York City, where she settled in Greenwich Village. She changed her first name to Brett after the lead female character in the Ernest Hemingway novel The Sun Also Rises. Somers was her mother's maiden name.
Although first isolated in 1889 and again in 1899 by scientists at Guinness, the discovery of Brettanomyces was first publicly published by the director of laboratory of the New Carlsberg Brewery, Hjelte Claussen, in 1904 after he cultured it from English beers that exhibited a sluggish secondary fermentation. Brettanomyces is a yeast strain that grows naturally on fruit skins. Yeast not only converts sugar into alcohol and carbon dioxide, but it also produces a wide variety of flavors and aromas depending on the strains used.
In 1973, Brett Somers debuted on Match Game, clicked with the audience, and stayed for the next nine years. Her earthy responses, smoky voice and good-natured interaction with host Gene Rayburn, Charles Nelson Reilly and other panelists gave Match Game the edge it needed to quickly become the top-rated daytime program.
There are four strains of Brettanomyces, or Brett, known to the brewing world, but only two are typically used: Brettanomyces Bruxellensis (also called Brettanomyces Lambicus) and Brettanonmyces Anomalus (also called Brettanomyces Claussenii). Brett aroma and flavor descriptors often range from horse blanket, barn yard, funk, fruitiness (especially pineapple), spicy and even smoky to leathery and acidic. Brett Somers wasn't a sour person; her merciless razzes on the game show were all in good fun. Brettanomyces-fermented beers are not always sour, despite common misconceptions. While "Brett" can be a funky and off-putting resident in some beers, there is no doubting that this yeast adds character and creativity to beer.
Somers would have celebrated her 97th birthday today. In her honor, and the fact that we have many Brett beers in the Peaks & Pints cooler, our to-go beer flight is beers with Brett — with a little Somers thrown in.
Peaks and Pints Pilot Program: Brett On The Fly
Wander Raspberry Millie American Sour
4.4% ABV
Wander Brewing's Millie sour series takes on many iterations throughout the year, the fruit of choice differing with the season and availability. Summer means raspberries — a ton of them were allowed to play with Brettanomyces and Lactobacillus. The nose is strong raspberry. The strong raspberry flavor leans more toward an Italian soda than a sour.
Silver City Charming Disarmer Wild Ale with Peach
5.4% ABV, 16 IBU
A disarmer, by definition, is someone opposed to violence as a means of settling disputes. That's positive. Silver City Brewery's Charming Disarmer Wild Ale with Peach draws you with her sweet demeanor, but it's her wild side that captivates. Aged for two years in a barrel that once housed Chardonnay; peaches, wheat, and the vanilla character of the oak are brought together by Brettanomyces, lending a subtle, bright tartness.
Nightmare on Brett
9.7% ABV
Crooked Stave has garnered high praise nationwide for their Belgian-style sour and wild ales. Most of these beers take months or years to make; they're aged in wooden barrels with wild yeast or bacteria. Their Nightmare on Brett also fits into the whiskey sour theme — a dark sour ale aged in Leopold Brothers whiskey barrels. The nose explodes with fresh raspberry, both the skin and fruit, with a mellow whiskey backing, Brett, and general funk, berries, and dark fruit. Raspberry leads the taste as well, but now more puree like, with blackberry, pomegranate, plum, tootsie roll, and date before huge Brett, funk, wood, and whiskey sweep you up to the slightly sour finish.
Block 15 Såjhon
4.8% ABV
Saisons are made special by their extremely unique yeast characters. Fermented hotter than most other beers, this allows for an array of truly weird and wonderful flavors. Brettanomyces has been living in beer barrels since before Claussen determined it was responsible for the "stale" flavor of leather and fruit that was so desirable in vatted English ales. Block 15 Brewing takes classic Saison yeast and blends it with Brettanomyces. The result is Såjhon mixed culture saison with mild funk and delicate acidity support notes of fresh hay and countryside flowers from a duo of noble German hops. A robust grist profile of both rye malt and flaked corn lends dryness and rustic earthiness to the finish.
E9 Balaton Farmhouse
6.8% ABV
Tacoma's House of Saison, E9 Brewing, grabbed Belgian pilsner malt, Belgian pale malt, wheat, water, and hop, and then fermented the ingredients stainless steel tanks. Next, Head Brewer Shane Johns transferred the young saison to oak barrels with added Brettanomyces. Last, E9 blended barrel and aged the bend on whole fruit Balaton cherries grown in the Yakima Valley. The pink-ish saison ends up with a slight funk and a brilliant showcase of cherry.
LINK: Peaks & Pints cooler inventory
---