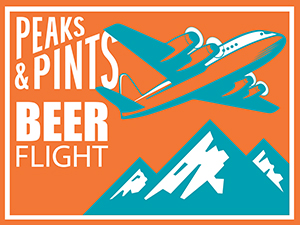 It's another Friday the 13th, and you need something perfectly thematic to do. But not unlucky, please, because there's enough disappointment circling the country. A few other things you shouldn't do: Don't have sex in a remote cabin in the woods, don't skinny dip by yourself after midnight, and don't investigate strange noises. Do drink the dark, eerie, bad-in-a-good-way beers in Peaks & Pints to-go beer flight today. Human sacrifices, ruthless Tsars and vaquero banditos. Oh, my! Today's beer flight promises round of devilish pomp, bourbon barrels and spicy fun. Grab these three bottles — the triple muse of power, mystery and ritual — and crank the full spectrum of darkwave music. Welcome to Peaks and Pints Pilot Program: Friday the 13th On the Fly.
Peaks and Pints Pilot Program: Friday the 13th On the Fly
Breakside Bourbon Barrel Aztec
10.6% ABV, 36 IBU
The Aztecs, or Mexica as they were known among themselves, are best known in popular culture for the brutal practice of human sacrifice. Evidence suggests that some would file down their teeth or fit them with precious stones. Women would also stain their teeth dark red with a dye extracted from a parasitic beetle that lives on cactus plants. Lazy Aztec kids were thrown into fire. They also loved chocolate. In fact, cacao seeds were so ubiquitous that they were used as a form of currency. Breakside Brewery's award-winning Bourbon Barrel Aztec dark ale is brewed with chilies and chocolate, and then aged four months in bourbon barrels for notes of vanilla, coconut, chocolate and red fruit.
Big Sky Oak Bourbon Barrel Ivan The Terrible
12.4% ABV
Ivan IV Vasileyevich — widely known as Ivan the Terrible or Ivan the Fearsome — was the Grand Prince of Moscow from 1533 to 1547 and reigned as the "Tsar of all the Russias" from 1547 until he died in 1584. The warlord often behaved in ruthless and paranoid ways. Big Sky Brewing's Ivan the Terrible Russian Imperial Stout isn't terrible or ruthless. Rather, Ivan the stout is a balanced medley of traditional stout flavors — dry fig and black cherry, with more bittersweet dark fruit flavor growing on the mid-palate as the beer warms. Ivan the Oak Bourbon Barrel stout, though, is rich, complex and intense, thanks to aging in American oak bourbon barrels. Sifting through the darkness you will find dark chocolate and bourbon flavors added to the dried fruits.
Epic Bigger Badder Baptista
11% ABV, 25 IBU
In 2017, Epic Brewing release of Big Bad Baptista, a barrel-aged stout inspired by Café de Olla, a traditional Mexican coffee spiced with cinnamon, cloves, star anise, and sweetened with piloncillo. Bigger Badder Baptista is back, but with a vengeance! Inspired by the smokey bite of mezcal, Epic added a pinch of smoked malt and a dash of salt to the mix of the Café de Olla spices. Badder Baptista is the vaquero bandito of the Baptist family. Don't mess with this hombre, he's the Baddest Baptist yet.
---