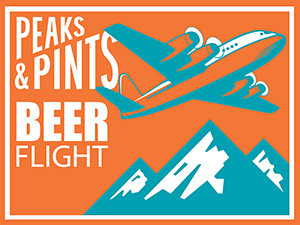 Yesterday Peaks & Pints highlighted one of the most popular fresh hops of the season: Sabro. Today, we examine what seems to be the second most popular hop to be rushed from Yakima hops farms to boiling kettles: Strata. In a nutshell, Strata (formerly known as X-331) is an open pollinated German born Perle hop that Oregon State University's hop-breeding program tweaked with Indie Hops. Strata expresses many of the oils associated with mango, oranges, and other fruits and herbs. Today, Peaks and Pints suggests taking home beers brewed with fresh Strata hops. We're calling the to-go flight, Peaks and Pints Pilot Program: Fresh Strata On The Fly. Cheers!
Peaks and Pints Pilot Program: Fresh Strata On The Fly
Lucky Envelope Fresh Hop Strata
6.4% ABV
Fresh off the bine, 200 pounds of Strata hops harvested by Crosby Hops were hopback steeped into Lucky Envelope Brewing's West Coast IPA. Their Pilsner malt bill keeps this beer light and dry allowing the focus to remain on the goodness coaxed from their massive wet hop whirlpool such as melon, tropical fruit and dankness.
Fort George Fresh IPA
6.4% ABV
This year's Fort George Fresh IPA is brewed with wet Strata hops driven straight in from Indie Hops in the Willamette Valley. It drinks super clean and fresh with light red berry fruit, melon, slight tropical fruit, and peaches with a dank bite.
Moonraker Day Dripper
7.5% ABV, 60 IBU
Moonraker Brewing Co. opened in 2016 in the same Auburn, California, industrial park as Knee Deep Brewing. A year later they beat Russian River's stalwart Pliny the Younger to win the 2017 Bistro Double IPA Festival's triple IPA category. Moonraker's solar powered facility cranks out highly coveted IPAs, including their seasonal wet hop Day Dripper brewed with Mosaic, Summit and a fat dose of Crosby Hop Farms wet Strata for notes of overripe pineapples, fresh cut basil, sticky marmalade, yellow gummy worms and ganga.
Sig Sticky Icky Greens
7.4% ABV, 420 IBU
This spring, Duncan Susag, brother Alex Susag and cousin John Samuelson opened Sig Brewing on the edge of Tacoma's Historic Brewery District, along Tacoma Avenue South in the building formerly occupied by Duncan's concrete design firm, Studio Make. Head brewer Jeff Stokes has been cranking out delicious craft beers, including Sticky Icky Greens, a fresh hop IPA brewed with wet Strata and freshly pelletized Strata from Roy Farms for huge notes of white gummy bears, white grape juice and peach. 7.2%
---