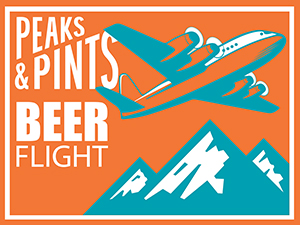 In September 2017, Peaks & Pints presented our first Fresh Hoptoberfest — a month-long autumn beer party marrying up two popular seasonal beers — fresh hops and Oktoberfest. Women dressed in lederhosen. Men got fresh … hop beers. Hop farmers and malters began living together — mass hysteria! This year, our fifth year, we're calling the celebration "Bride of Fresh Hoptoberfest" at our bottle shop, taproom and restaurant in Tacoma's Proctor District. Bride of Fresh Hoptoberfest ends in less than a week, but not without a Fresh Hoptoberfest craft beer flight today. Enjoy bright, hop-hazy fresh-hop beers, just hours from field to kettle and mere days from the fermenter to your glass AND clean, hearty Oktoberfest-style lagers from Germany and nearby as Peaks and Pints Pilot Program: Fresh Hoptoberfest On the Fly.
Peaks and Pints Pilot Program: Fresh Hoptoberfest On the Fly
Hacker-Pschorr Oktoberfest Lager
6% ABV
Hacker-Pschorr Brewery of Munich ranks among Germany's oldest breweries. It was first mentioned in a document dating back to 1417 as "Preustatt an der Hagkagasse" (a brewing place in the Hagka lane), located on the site of the current Altes Hackerhaus beer hall at Sendlingerstrasse 14, halfway between the old city hall at Marienplatz and the Sendlinger Tor city gate. A brewer named Simon Hacker purchased the premises in 1738 and renamed it "Hacker Bräu" (Hacker Brew). In 1797, another brewery owner, Josef Pschorr, acquired control of Hacker Bräu by way of marrying Therese Hacker, but the two breweries remained separate entities until they merged in 1972 to form the Hacker–Pschorr Brewery. Hacker-Pschorr Oktoberfest Lager is the beer that they serve at The Oktoberfest. The aroma is buttered white bread roll, straw, cereal, cracker, spice and hay. The taste is on the sweet side sweet with notes of white bread, grass, cracker and cornbread with a dry-ish finish.
Deep Draft Old Crow Oktoberfest
6.2% ABV, 26 IBU
The name "Old Crow" emerged from the first use of electronic warfare in WWII to disrupt Axis communications AND radars. Allied equipment and operators were thus known by the code name "Raven." Common jargon changed their name to "Crow" and those engaged in the profession became known as "Old Crows." Deep Draft Brewing grabbed the term for their Oktoberfest lager brewed with Vienna, 2-row, 120, Brown, and Black malts then finished with Pere and Tettanger hops. Expect a bready lager with slight toast and bitterness.
Occidental Festbier
6.3% ABV
Occidental Brewing Festbier beer is in 16-ounce cans allowing hikers to enjoy a rich yet drinkable lager in the old tradition of Oktoberfest beers before light colors and flavors began to dominate the German landscape. German noble hops provide a delicate hop character to pair with a firm malt profile featuring Munich and Vienna malts.
Double Mountain Killer Red
7.2% ABV, 88 IBU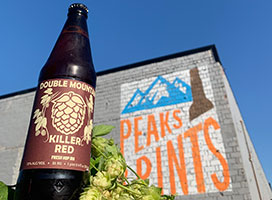 The birth of Double Mountain Brewery Killer Red happened after the choice of hops for the Hood River brewery's Killer Green Fresh Hop IPA were a little late, so the brewers decided to craft a sister brew with fresh Perle hops to fill the thirsty void. It stuck. So the annual fresh hop trip to Sodbuster Farm in the Willamette Valley includes enough hops to brew Killer Red. Aroma is strong with hoppy overtones, piney, lemon zesty and cookie dough malt. Taste is more of the same, dry piney citrusy hops and pastry malts dominating the flavor, with a hint of sweetness. Finish is dry, but balanced and satisfying.
Double Mountain Killer Green
7.6% ABV, 96 IBU
Double Mountain Brewery and Taproom was established in 2007 in the heart of downtown Hood River, OR. Founder Matt Swihart opened the brewery with a clear mission: make great beer for craft beer fans. Their unique location lends to not only using pure and clean glacial water for their beers, but they also take advantage of regionally grown hops. Killer Green fresh hop IPA is brewed with Brewer's Gold and Simcoe hops straight from Sodbuster Farms in the Willamette Valley. Quick from bine to the boil for initial bright evergreen, red fruit and blood orange flavors that finishes will all the juicy pine and slight herb.
LINK: Peaks & Pints cooler inventory
---