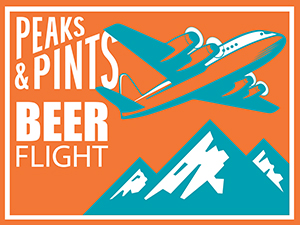 Pacific Northwest hops are harvested each year from late August through September, which means beers brewed with the freshest hops available, also known as wet-hopped beers, arrive in early October. What are fresh-hopped beers? Simply put, they're brews made with hops that are pulled off the bine and go straight into the kettle. The vast majority of the hops used by U.S. breweries are cultivated in Oregon and Washington. For the most part, these hops are dried and processed before being sold to professional and amateur brewers, which affects the flavor punch. With fresh hops, drinkers can expect more hoppiness, more aroma and more flavor — kind of like cooking with fresh herbs and spices instead of something that's been on the shelf for a while. Fresh-hopped beers are best consumed ASAP; let's drink five today. Stop by Peaks and Pints and enjoy Peaks and Pints Pilot Program: Fresh Hops Beer Flight.
Peaks and Pints Pilot Program: Fresh Hops Beer Flight
Silver City Wet Hop Tropic Haze
6.4% ABV
Silver City Brewery brewed a limited edition of their Tropic Haze hazy IPA utilizing fresh, whole-cone Strata hops harvested less than 24 hours before entering the brewing process. Expect tropical and juicy citrus aromas and a dank backbone.
Reuben's Fresh Hop Hazealicious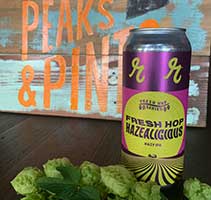 6% ABV
Using freshly picked Strata hops from the Yakima Valley, Reuben's Brews brewed another special version of Hazealicious, their year-round hazy IPA. Fresh Hop Hazealicious earned a bronze medal in the Fresh Hop category at the 2020 Great American Beer Festival. With a malt bill of Pilsner, white wheat, Honey, and Pale, plus fresh Strata, Comet and Citra hops, this hazy IPA sports a hoppy punch with notes of grapefruit and a drier finish.
Fremont Field to Ferment: Centennial
6% ABV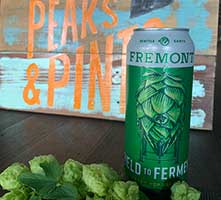 Fremont Brewing's Field to Ferment fresh hop pale ale is brewed with Centennial hops, plus a Centennial dry hop, for citrus notes on the nose with grapefruit shining through. You should also smell stone fruit, melon, tropical fruit, floral and grassy notes with light pine. On the tongue, expect gentle sweetness with a moderate bitterness in a light, mouthwatering body.
Everybody's Head Stash Fresh Hop IPA
6.7% ABV
This year marks the 13th consecutive year that Everybody's Brewing has worked with Loza farms to source their fresh hops. Loza is the only known Mexican American owned commercial hop farm in the U.S. Everybody's raced fresh Simcoe from Loza back to the waiting kettle in White Salmon. Because they canned Head Stash, Everybody's added the Simcoe to their whirlpool to provide plenty of juicy flavor while guaranteeing the quality of the beer. Inhale deeply to experience the bold, dank aroma of this year's crop, followed by pine and citrus ­flavors of orange and grapefruit mingle.
Double Mountain Killer Red
7.2% ABV, 88 IBU
The birth of Double Mountain Brewery Killer Red happened after the choice of hops for the Hood River brewery's Killer Green Fresh Hop IPA were a little late, so the brewers decided to craft a sister brew with fresh Perle hops to fill the thirsty void. It stuck. So the annual fresh hop trip to Sodbuster Farm in the Willamette Valley includes enough hops to brew Killer Red. Aroma is strong with hoppy overtones, piney, lemon zesty and cookie dough malt. Taste is more of the same, dry piney citrusy hops and pastry malts dominating the flavor, with a hint of sweetness. Finish is dry, but balanced and satisfying.
LINK: Peaks & Pints cooler inventory
---