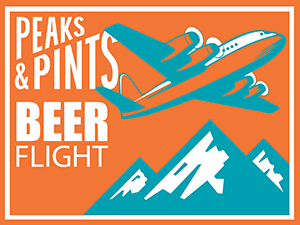 Summer is a perfect time for any light, crisp refreshing beer. Still, doesn't our nation's independence deserve better than that? Just like how Halloween-themed beers are dragged to the table each October, Peaks and Pints votes to bring some of the Fourth of July beers to the barbecue today. But what is a Fourth of July-themed beer? No, not a Budweiser can with an American Flag splayed across the can. Independence Day beers are more subtle. With names that hint at rebellion, freedom and other tenants of American awesomeness, many year-round craft beers have a built-in necessity to be drunk beneath a fireworks-laden sky. Since Peaks and Pints has limited hours today — 11 a.m. to 3 p.m. — we decided to offer a Fourth of July beer to-go beer flight today, Peaks and Pints Pilot Program: Fourth of July Beer Flight.
Peaks and Pints Pilot Program: Fourth of July Beer Flight
450 North SLUSHY XL Popsicle Rocket
7.35% ABV
The Bomb Pop is a patriotic popsicle for a patriotic time in American history. The staple of many an ice-cream truck, with its iconic red-white and blue color scheme, it was born in July 1955 with cherry, lime, and blue raspberry flavors. It grew in popularity and became an icon, associated with the 4th of July and summer. The competing "Firecracker Pop" was introduced in the 1990s by Popsicle brand that also featured a red, white, and blue color scheme, but they would swap out the lemon-lime flavor in exchange for "white lemon" flavor. In 2022, 450 North Brewing introduced the SLUSHY XL Popsicle Rocket, a Berliner weisse conditioned on crazy amounts of raspberry, cherry, and lemonade.
Great Notion RBG
9% ABV
Ruth Bader Ginsburg, Kiki to her friends, was born and bred in Brooklyn, New York, and became a tough, resourceful, and levelheaded woman. With a seemingly bottomless pit of energy, she climbed her way to the top and carved out a name for herself in American history. Sandra Day O'Connor may have been the first woman confirmed to the Supreme Court, but the law books will always have a special place for Ginsburg. Great Notion Brewing brewed RBG tart ale with raspberry, blueberry, and guava in honor of the late great Ginsburg. Proceeds from the initial sale of this beer was donated to the ACLU.
21st Amendment Hell of High Watermelon
4.9% ABV, 17 IBU
In 2000, Nico Freccia and Shaun O'Sullivan founded 21st Amendment Brewing in the South Park neighborhood of San Francisco, California. As avid beer enthusiasts, Freccia and O'Sullivan were determined to establish an ongoing celebration of the overturned 21st Amendment to the Constitution (that's the one that repealed Prohibition) and gave their brewery the amendment's namesake to commemorate it. Celebrate freedom in America with their Hell or High Watermelon American wheat beer brewed with real watermelon, for a flavor that's surprisingly crisp, dry, and refreshing.
Block 15 Liberty and Justice For All
7% ABV
The American Declaration of Independence proclaims, "We hold these truths to be self-evident, that all men are created equal, that they are endowed by their Creator with certain unalienable Rights, that among these are Life, Liberty and the pursuit of Happiness. That to secure these rights, Governments are instituted among Men." The preamble to the Constitution of the U.S. enumerates the basic functions of government, beginning with "to establish Justice" and ending with, "to secure the Blessings of Liberty to ourselves and our Posterity." The U.S. Pledge of Allegiance, first drafted during the Civil War, is a declaration of loyalty not only to the flag but also to "one nation, under God, indivisible, with liberty and justice for all." Block 15 Brewing brews their West Coast IPA Liberty and Justice For All to recognize and support people of all races, genders, and lifestyles who face inequality through disabilities. A portion of the proceeds from this beer will be donated to Disability Rights Oregon as they work to promote and defend the rights of persons with disabilities to have equality of opportunity, full participation, and the ability to exercise meaningful choice. Liberty and Justice for All features Columbus, Centennial, Citra incognito, Simcoe, Chinook, Amarillo, and Azacca hops for bright pineapple flavors, with notes of chive flowers and mandarin peel.
Stone Enjoy By 07.04.2022
9% ABV
While freshness is a key component of many beers — especially big, citrusy IPAs — Stone Brewing has taken it further, a lot further, in their Enjoy By IPA series. They go to extensive lengths to ensure that you're getting this double IPA in your hands within an extraordinarily short window. That's why the Enjoy By date isn't randomly etched in tiny text somewhere on the can, to be overlooked by all but the most attentive. Instead, they send a clear message in the name of the beer itself — further proving that there is no better time than right NOW to enjoy this IPA. This edition of Stone Brewing's brewed-to-be-enjoyed-now IPA is a fruitfully fresh new variant loaded with real tangerine and pineapple.
LINK: Peaks & Pints cooler inventory
---