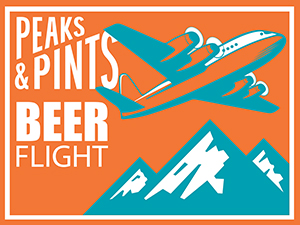 Founded by brewers Jack Harris and Chris Nemlowill, the two combined their brewing expertise from previous Oregon coast gigs at Bill's Tavern and Astoria Brewing Company to open Fort George Brewery in March 2007. Harris and Nemlowill drove their first 8.5-barrel brewhouse — nicknamed "Sweet Virginia" —from the East Coast and through a tornado to open a small pub in the Fort George Building on Duane Street in Astoria, Oregon. In 2009, they bought almost the entire city block, including the Lovell Building, where they installed a 20-barrel commercial brewhouse — "Little Miss Texas" — followed by a neighboring $12.5 million production facility. Today, Fort George is one of the Pacific Northwest's premier craft breweries, as well as the focus our to-go flight — Peaks and Pints Pilot Program: Fort George On The Fly.
Peaks and Pints Pilot Program: Fort George On The Fly
Fort George Spruce Budd
5.5% ABV
Almost the entire Fort George brewery went out one Friday morning and harvested the hundreds of pounds of spruce tips needed to brew this beer, making it the most locally sourced beer you can get. Those tips went from tree, to kettle, to four-packs in about two weeks. It's basically brewed with nothing more than hand-harvested spruce tips and pilsner malt. It tastes just like a sprucy dance through the forest with hints of spruce, citrus, and more spruce.
Fort George Cavatica Stout
8.8% ABV, 30 IBU
Fort George Brewery at the mouth of the Columbia River in Astoria, Oregon excels at dark craft beers, such as its Cavatica Stout. The Latin root of Cavatica is cave, crevice, abyss, or a dark place. Just like a stout should be. Fort George brewers dump in black barley and Munich malt to get a molasses-like heft. Cavatica's extra ethanol will blend smoothly into your glass. A big head of sandy foam and the resolute sweetness of raisins, cocoa, and candied walnuts impress. Cascade hops provide a balancing slice of orange that is distinctly Oregon.
Fort George Atomic Jukebox
8.4% ABV
Brewed in collaboration with Kex Brewing of Reykjavik, Iceland, and the KEX Hotel in Portland, Atomic Jukebox is a passionfruit, blood orange, and guava, or P.O.G. milkshake hazy IPA. Packed with fruity hops, passionfruit, blood orange, and guava puree, this sweet, juicy, beer has added lactose to enhance the mouthfeel.
Fort George Beta IPA 25.1
6.7% ABV
Farmers' Annuary is a seasonal IPA that arrives around harvest time. Each year will feature a collaboration with one of Fort George's purveyors. This year's West Coast style IPA will be brewed with select hops especially chosen by Roy Farms. Andy from Roy Farms and Michal and Brian from Fort George worked to come up with a hop bill that fits that classic West Coast style, but with a few tricks that might make you think it's a New England IPA. Beta IPA 25.1 is one of this year's Farmers' Annuary test batches.
Fort George Fields of Green (TRINITY)
7.6% ABV
Fort George's Fields of Green is an exploration of hop-perceptions, pushing the limits of your lupulin receptors. This periodic IPA release, always evolving, has landed at Peaks and Pints — on tap and in cans. The latest batch, Codename: Trinity, is named after what some brewers call the Holy Trinity of hops — Simcoe, Mosaic, and Citra. Pungent notes of pineapple and pine blend with soft notes of melon and fruit punch while a light bitterness balances sweet papaya and apricot flavors.
Fort George Vortex IPA
7.7% ABV, 97 IBU
Caught in a tornado in the Midwest while hauling their original brew system cross country from Virginia, it made sense from Fort George Brewery to whip up Vortex IPA. With a hearty 7.7% ABV unfiltered, unpasteurized organic malt spine that makes way for Simcoe, Amarillo, and Centennial hops this IPA is medium bodied with a resinous mouthfeel, grapefruit more than pine and finishes with lingering hop bitterness. This beer is straight up delicious.
 LINK: Peaks & Pints cooler inventory

---