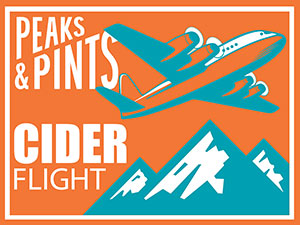 You will not tough out this year's South Sound summer all on your own. You just won't. Or at least not without a cold, refreshing cider infused with 4,000 pounds of pitted tropical fruits. Good news: Peaks & Pints is loaded with magnificent core-cooling cider options: guava ciders, mango ciders, pineapple ciders, papaya ciders, passionfruit cider — although Peaks & Pints must admit, passionfruit tastes faintly of lip gloss, a blast back to the eighth grade. But as we munched the slightly sweet and sour flavor of passionfruit grew on us. Passionfruit is one of the three amigos in P.O.G., a tropical juice drink created in 1971 by a food product consultant named Mary Soon who worked for Haleakala Dairy on Maui, Hawaii. It's a sweet blend of passionfruit, orange, and guava juices, long a favorite of Hawaii residents. Peaks & Pints also has P.O.G. ciders, too. Today, Peaks & Pints presents a to-go beer flight of tropical ciders — a flight we're call Peaks and Pints Monday Cider Flight: Tropical Summer.
Peaks and Pints Monday Cider Flight: Tropical Summer
Swift Tropic Haze
5.9% ABV
Inspired by a tropical margarita, this hazy cider requires a gentle stir upside-down before serving to get the whole fruit puree of guava, mango, and passionfruit back into suspension. Swift adds a touch of pink salt to help each of the fruit flavors pop and remind of the classic salted rim.
Seattle Cider Papaya Sparkling
4.2% ABV
Joel VandenBrink, the founder of Two Beers Brewing Co., launched the Seattle Cider Company in August 2013, with the help from his Two Beers sales rep and a former farm hand Eric Willard. Diagnosed with Crohn's disease, which makes beer difficult to digest, VandenBrink launched the cider company with only two products: Semi Sweet and Dry. Today, Seattle Cider has many options, including Papaya Sparkling, which is inspired by seltzer and crafted in the tradition of their ciders, ala apples. It's light, refreshing, and naturally gluten free.
ACE Guava
6% ABV
California Cider Company is the first family-owned cider in the United States. They have been making ACE Premium Craft Cider since 1993 in the beautiful Sebastopol area of Sonoma County California just north of San Francisco. ACE Guava Cider was inspired by a trip to Brazil where they enjoyed the national cocktail, a caipirinha, blended with fresh local guava juice. ACE blends fresh pink guava juice with their semi-dry unfiltered apple cider for a fresh guava aroma, citrusy mouthfeel, fruit forward with semi-dry undertones, and a ridiculously smooth finish.
Avid Pineapple Mango
6% ABV
In 2013, AVID Cider Co. invaded the Bend, Oregon craft beer-crazed town with something different. Back then, they went by ATLAS and quickly gained recognition locally and regionally depicted by their major award display case. AVID became known as a semi-sweet cider company placing their craft between the dry and sweet market. They live and die by their "NW to the Core" slogan sourcing regional fruit pressed in Bend to create "core" ciders and seasonally inspired hits such as blend of tropical pineapple and mango. The tart pineapple is skillfully balanced with the mango's sweetness and flavor. And although she looks like a sweat treat, they targeted an off-dry but fruit forward profile that showcases the aromas and flavors.
Reverend Nat's Viva La Pineapple
6% ABV
When his North Portland neighbor begged him to take his backyard apples off his hand in 2004, Nat West began experimenting with fermentation, turning the small green apples into hard cider. His friends went nuts. West would go on to hold weekly free cider parties at his house, experimenting on his friends, which ended up at 50 or so people. In the summer of 2011, West launched Reverend Nat's Hard Cider. Then he put on his mathematician button-down sweater. He took a blend of fermented fresh apple juice sourced from Eastern Washington and added unfermented fresh pineapple juice. Then, he added a touch of cinnamon, cloves, and allspice. The summary is spice and pineapple that hits the nose and tongue with notes of green apples and pear. Proof!
Portland Passion Orange Guava
5.5% ABV
Oregonian Jeff and British Lydia launched Portland Cider Company in 2012 with the intent of marrying English cider traditions with the innovative Northwest micro-brewing culture.  It all started from a desire to make the clean, dry cider Lynda grew to love in England, and Jeff yearned to find in Oregon. With their Passion Orange Guava cider, expect a deliciously, tropical tart and tangy blend of passionfruit, citrus, guava, and Northwest apples.
LINK: Peaks & Pints cooler inventory
---