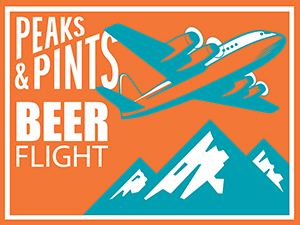 The Washington Department of Fish and Wildlife has reopened some recreational fishing and hunting in a phased approach following the state's efforts to limit the spread of coronavirus. All freshwater fisheries opened under permanent rules, as did Puget Sound saltwater fisheries (Marine Areas 5-13), except for halibut, shrimp, and intertidal shellfish. If the rivers and lakes are open, and you're following the CDC guidelines for social distancing, fishing is a great way to reduce stress and have fun. But, you'll need some light craft beer to enjoy while waiting for the fish. Stop by our craft beer lodge for Peaks and Pints Pilot Program: Fishing Beer On the Fly.
Peaks and Pints Pilot Program: Fishing Beer On the Fly
Left Hand Peach Beerllini Radler
4.1% ABV, 8 IBU
Left Hand Brewing dumped 230 barrels of peach puree into this light and refreshing effervescent concoction of pale malts and peach nectar. Each can of Peach Beerllini Radler has approximately a half a peach worth of puree. Based on that, it's not surprising that the aroma of this beer is all peaches, like millions of peaches. The taste is slightly sweet from the sugars in the peaches, but not cloying. Trust us, you'll be happy even if you don't catch a fish.
Kulshan Premium Lager
5% ABV, 12 IBU
Kulshan Brewing grabbed gold at the 2017 Washington Beer Awards for its Premium Lager. Now a year-round offering, the canned craft beer is light and refreshing lager with just enough crispness to balance the malts perfectly. Subtle grain and light hop aroma adds to this thirst quenching beer. Made with Mt. Rainer hops, its aroma is full of straw with grains and bread backing. Flavor is similar with straw, some sweet grain and a bit of bread.
Dogfish Head Slightly Mighty
4% ABV, 30 IBU
Sam Calagione started making beer in 1995 when he opened Dogfish Head Brewings & Eats in the beach community of Rehoboth Beach, Delaware. A low-calorie IPA that is slight in cals and carbs with mighty hop flavor! Dogfish Head's Slightly Mighty has all the flavor and tropical aromas of a world class IPA, but with only 95 calories, 3.6 grams carbs, 1 gram protein and zero grams of fat. Brewed with Delaware-grown barley, and a touch of monk fruit that delivers body and complexity but adds zero calories or carbs, Slightly Mighty is light-bodied and offers a lingering balanced sweetness.
Narrows Drinking Remotely DIPA
8% ABV,

Drinking while fishing has been around as long as fishing has. In fact, even back in the Biblical days of fishing they brought along flasks of wine to kill time while the fishing was slow, and to celebrate after a successful fishing trip. Peaks & Pints suggest rewarding yourself with Narrows Brewing Drinking Remotely, as most likely you did on your fishing outing. Brewed in the traditional NEIPA sense, but dry hopped with classic C-hops, Drinking Remotely is a different kind of double IPA for different times. It's soft and full-bodied, but has flavors and aromas reminiscent of something West Coast — a dank fruit salad.
---