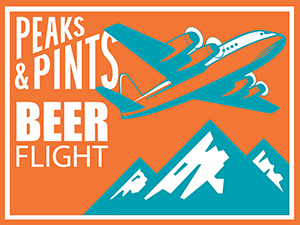 Mike Klucznik and his wife, Sheila Mullen, opened farm brewery Fat Orange Cat Brew Co. in East Hampton, Connecticut, on Aug. 13, 2016. The longtime homebrewer Klucznik wasn't a cat person until he met Mullen's orange-and-white feline, Billy, whose memory now lives on with the brewery. Before they launched Fat Orange Cat, Klucznik worked as a CPA and Mullen as an American Sign Language teacher. Klucznik's homebrewing medals began to pile up so they opened the brewery as a place to store the medals — and showcase his talents. Today, Klucznik, as brewmaster, works with head brewer Carla Waclawski to produce a weekly selection of beers, many which take their names from musical or cinematic references, which are contract-brewed through the 12 Percent Beer Project collective. The East Hampton brewery remains as a pilot brewhouse and test kitchen. Stop by Peaks & Pints and grab a to-go flight of Fat Orange Cat beers — a flight we're calling Peaks and Pints Pilot Program: Fat Orange Cat On the Fly.
Peaks and Pints Pilot Program: Fat Orange Cat On the Fly
Fat Orange Cat Walkabout Mango Cranberry
5.5% ABV, 20 IBU
It took some time to recreate Fat Orange Cat's Walkabout series sours on 12 Percent Beer Project's large system, but it happened. Just like with a chutney or smoothie, the sweet mango balances the tart cranberry for a delicious, fruited sour.
Fat Orange Cat All The Kool Kats On the Back of the Bus
8.4% ABV
All the cool kids in the back of the bus
Rubba dubba scrubba bubba
Whatchu talkin' bout gus breakin the rules
I hope we don't get caught sha la la la la la la la
Yes, indeed, Fat Orange Cat's All The Kool Kats On the Back of the Bus' name arrived via inspiration from G Love and Special Sauce's "Back Of The Bus" song. The New England-style double IPA sings with Simcoe, Citra, Mosaic, and Nugget hops for notes of candied orange, fruit, pine, and grapefruit.
Fat Orange Cat Roll Me One, Cowboy, With Pistachio And Marshmallow
13% ABV
(Vincent takes out his pouch of tobacco and begins rolling himself a smoke as Mia
gets a cigarette out of her pack. She sees Vincent rolling one and starts watching
him. She then puts hers back in the pack)
MIA: Could you um, roll me one of those cowboy? (As he finishes licking it)
VINCENT: You can have this one, cowgirl.
(He hands her the rolled smoke. She takes it, putting it to her lips. Out of nowhere
appears a Zippo lighter in Vincent's hand. He lights it.)
MIA: Thanks.
VINCENT: Think nothing of it. (He begins rolling one for himself)
Can you guess the name origin of this imperial stout with unique and robust flavors created by a generous amount of crushed pistachios, marshmallow, and a big specialty grain bill?
Fat Orange Cat Welcome To Harga
8.5% ABV
When you walk out of the forest, a wooden arch will welcome you and lead you to Hårga, a commune, located in the province of Hälsingland, Sweden. The beautiful village sees eternal sunlight during summer due to the midnight sun with flowers blooming everywhere and kindhearted people residing peacefully. When you drink Welcome To Harga, a New England-style double IPA, you'll be greeted by copiously amounts of Nelson and Motueka hops for notes of grass and citrus blowing in the breeze.
Fat Orange Cat I Don't Know Where But She Sends Me There
9% ABV
She's giving me excitations (excitations) Ah, ah, my, what elation. I don't know where but she sends me there. Oh, my my, what a sensation. …
The Beach Boys "Good Vibrations" inspired this juicy New England-style double IPA brewed with Citra, Amarillo, and Galaxy hops with orange and grapefruit citrus flavors, some candied peach notes, and a slight floral note on finish.
LINK: Peaks & Pints cooler inventory
---