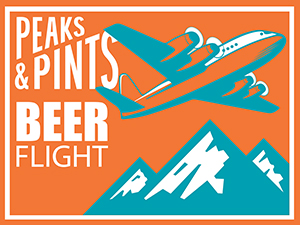 In 2016, MIT graduates and friends Peter Oates and Ricardo Petroni opened Equilibrium Brewery in Middletown, New York. The two professional scientists became obsessed with New England hazy IPAs spending more time at Hill Farmstead Brewery and The Alchemist than their laboratory. Finally purchasing a homebrewing kit, Oats and Petroni strived to create scientifically balanced beer, which they did before brewing their first double IPA, named EQM, in 2015. It didn't hurt they were trained in water chemistry. Since then, demand forced them to open a second site in Middletown to brew more cult-classic, scientific hazy beers — beers they like to drink. Today, Peaks & Pints presents another to-go flight of Equilibrium beer — a flight we call Peaks and Pints Pilot Program: Equilibrium Flight.
Peaks and Pints Pilot Program: Equilibrium Flight
Equilibrium Light At The End Of The Tunnel
6.8% ABV
Light At The End of The Tunnel IPA uses Equilibrium's Photon IPA as its inspiration with some modifications and upgrades, including a Yakima Chief Hops Survivable hop blend for the whirlpool and a large dose of Lupomax Citra in addition to a supersized Photon hop bill. Expect aromas and flavors of soft pineapple, navel orange, stone fruit, EQ's rainbow melon, and lime juice radiate with a touch of pine resin at the finish.
Equilibrium Double Fractal Triflake
8.5% ABV
The Double Fractal series brings you all the goodness of Equilibrium's Fractal and Super Fractal beers, but … wait for it … in a double IPA format. Named after the Triflake fractal set pictured on the label, Double Fractal Triflake combines a simple 2-row base malt bill with a mix of Citra, Nelson, and Galaxy hops for tropical aromas complemented by passionfruit, papaya cubes, white peach in pineapple syrup, tropical grass, and a touch of green grape. The flavors coalesce into a soft and creamy mouthfeel with their EQjuice finish.
Equilibrium Axioms of Probability
8.5% ABV
A collaboration with BlackStack Brewing, Axioms of Probability hazy double IPA uses an oat and wheat base before a Citra Incognito, Citra T90, and Galaxy whirlpool with an Eclipse, Citra, and Galaxy dry hop. Pouring vivid yellow, a bright melon and assorted tropical fruit nose hits the senses first before big flavors of ripe melon, mango chunks, fuzzy peach skin, lemon lime, and dank earth. The creamy fruit forward flavors build up into a spectrum of bright rainbow melon known as their EQjuice finish.
Equilibrium Dream Lab
10.2% ABV
If Equilibrium's Think if Dream Wave Fluctuation and Straight Outta the Laboratory had a baby with no lactose, then Dream Lab hazy Triple IPA would be waiting for parents to take it home. A collaboration with Other Half Brewing, Dream Lab ended up taking EQ's Straight Outta The South Street Lab grain bill, modified an aggressive Other Half hop bill of Galaxy and Citra, and ran it through the SOTL process to bring out the EQ juice. Expect bright creamy tropical flavor loaded with a big juicy profile.
LINK: Peaks & Pints cooler inventory
---