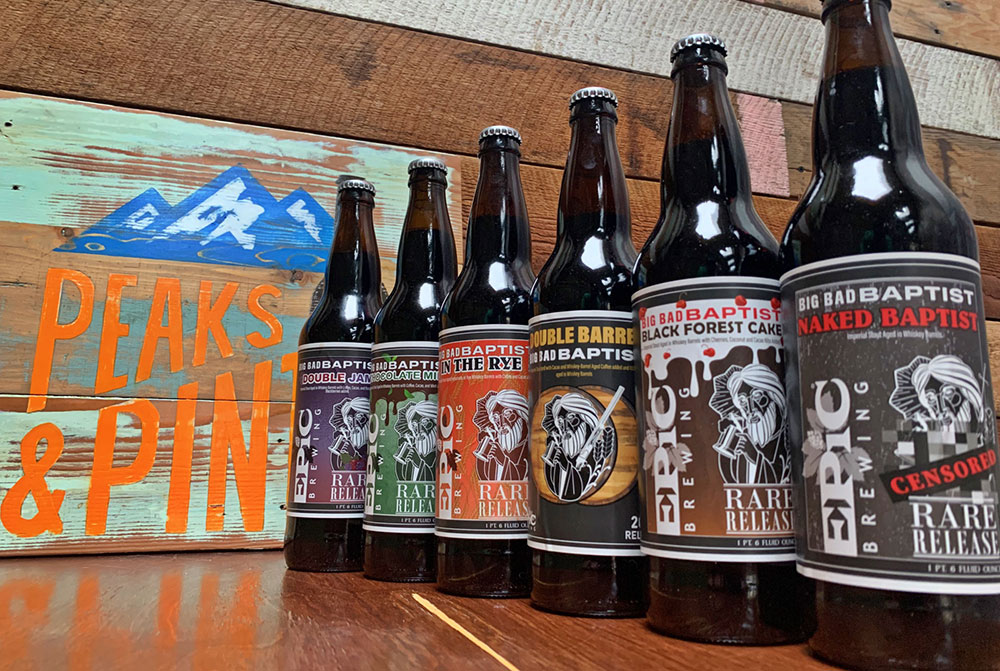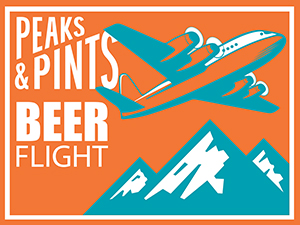 When Utah's strict liquor and beer laws changed in 2008, entrepreneurs David Cole and Peter Erickson were able to pursue their longtime dream of opening Epic Brewing — a strong beer microbrewery in Salt Lake City, Utah, like those found in their home state of California. Having started an international aquaculture company in Utah in 1992, Cole and Erickson were no strangers to food and drink (and the art of making them well), so when they teamed up with acclaimed brewmaster and fellow beer geek Kevin Crompton, the trio immediately set to work brewing a carefully curated collection of strong ales and lagers. In 2013, Epic expanded its brewery operations into Colorado by opening a second brewery in the River North district of downtown Denver. The Denver brewery offered enough space to support growing national distribution, expansion of the popular Big Bad Baptist barrel-aged beer program and the introduction of a line of sour beers. Nov. 12, 2021, Peaks and Pints presents a to-go flight of Epic's Big Bad Baptist Imperial Stout variants in a flight we call, Peaks and Pints Pilot Program: Epic Big Bad Variants On the Fly.
Peaks and Pints Pilot Program: Epic Big Bad Variants On the Fly
Epic Baptist In the Rye
11.5% ABV
Epic's Big Bad Baptist is a luxuriously rich imperial stout aged in used whiskey and or bourbon barrels, then infused with real coffee and coca nibs. Each season's release uses a different dark roasted coffee. For their Baptist In the Rye, Epic strays from the beaten path by aging it in 100 percent rye barrels for unique peppery notes and deep earthy tones.
Epic Big Bad Baptist Double Jam
11.5% ABV
This variant of Big Bad Baptist brings together heavy raspberry, blackberry and coffee like as breakfast coffee cake, but with more barrel-aged booze.
Epic Big Bad Baptist Chocolate Mint
11% ABV
Epic's Big Bad Baptist is brewed with fresh mint and a copious amount of cacao nibs for notes of, duh, mint and chocolate, but the coffee notes are still there, too.
Epic Big Bad Baptist Black Forest Cake
11.5% ABV
Chocolate, ripe cherries, and fresh coconut are layered into Big Bad Baptist for flavors of the classic German treat.
Epic Double Barrel Big Bad Baptist
11.5% ABV
After HotBox Roasters, based out of Longmont, Colorado, told Epic they've been aging green coffee beans in retired spirits barrels, the brewery added green coffee beans to whiskey barrels full of their Big Bad Baptist. The beans produced notes of toffee, vanilla, oak, and campfire alongside the beans natural fruity and roasted flavors. To accommodate the bold flavors of the coffee Epic sourced cacao nibs from Solstice Chocolate, a small artisan chocolate maker based out of Salt Lake City, and roasted them in house to bring out their inherent characteristics. The result is a slightly sweet, beefy stout with oak and whiskey notes in the background.
Epic Naked Baptist
13.2% ABV
After the brewers begged, this naked depiction of Big Bad Baptist was aged in whiskey barrels without coffee or cacao. It's straight up stout and bourbon.
LINK: Peaks & Pints cooler inventory
---