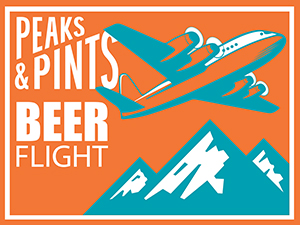 Easter is a time for families and friends to gather and observe traditions, like going to church, enjoying favorite recipes, sharing stories and participating in community egg hunts. But for the majority of Americans, today's Easter Sunday will be the strangest in recent memory. Indeed, Easter is smack in the middle of the coronavirus pandemic, reminding us to appreciate life's simple pleasures, sweet craft beer. Yes, Easter has usurped the giant solid chocolate bunnies, Easter baskets, and that impossible-to-vacuum-up plastic grass. Cadbury Eggs? We know some people love these things, but people love fried pork rinds, too. Let's face it — no one really likes Peeps. Their sole purpose for existing is to entertain us by having duels in the microwave, complete with toothpick swords. Easter, at least to Peaks and Pints, is about craft beer, so enjoy our Easter to-go beer flight we call Peaks and Pints Pilot Program: Easter Beer On The Fly.
Peaks and Pints Pilot Program: Easter Beer On The Fly
Lindemans Framboise
2.5% ABV, 12 IBU
For those that love tart sweets, Lindemans has you covered with its Framboise. This raspberry lambic pours bright red and offers more fizz than froth. This super sweet beer also offers an amazing raspberry aroma. There is a sugary sweet here that overpowers the inherit sourness of a good lambic. Sounds like a bad thing, right? Put it in your mouth and see if you feel the same way.
Breakside Salted Caramel Stout
6.7% ABV, 28 IBU
Breakside Brewery's popular Salt & Straw collaboration is a deliciously Easter-worthy beer. Made with specially made caramel and a pinch of sea salt, this is a delicately balanced ale that pre-dates many of today's cloying monstrosities, offering a full-bodied roast, and leaning on the salt to invite you back for more. A creamy mouthfeel carries roasted marshmallow flavors, sweet caramel and just a hint of salt in the finish. After a few sips, its flavor profile falls somewhere between caramel brittle and salted caramel ice cream.
Omnipollo Hippodamia
11% ABV
Looking for a beer that tastes like Reese's peanut butter cup eggs, but as far as style goes, this novelty take meets and exceeds the classic. The eggs are thicker around the middle, providing a heftier dose of precious peanut butter. Swedish brewery Omnipollo traveled to North Haven, Connecticut, to brew this "Chocolate Peanut Butter Toast Spread" beer at 12 Percent Beer Project. It's an imperial stout brewed with cacao, vanilla, and peanuts, which means it contains nuts. It's more peanut butter than anything, so it's a good substitute.
Off Color Dino S'mores
10.5% ABV, 40 IBU
Looing for a beer that replaces chocolate with a crunch, Whoppers' Robin Eggs? Well, the crunch would be bad. But, a lovely second choice is Coffee Dino S'mores by Off Color Brewing in Chicago. John Laffler of Goose Island and Dave Bleitner of Two Brothers opened Off Color Brewing in March 2013. At the brewery's launch party, a local pastry chef cooked up a batch of dinosaur-shaped s'mores for munching; these treats provided the inspiration for an imperial stout Off Color would later brew in collaboration with Danish brewer Amager Bryghus and venerable Windy City bottle shop West Lakeview Liquors. This Russian Imperial stout is brewed with nine different types of malts along with Nugget hops, cocoa nibs, marshmallows, vanilla bean, molasses, graham flour, and Gikirima AA coffee from Kenya. Pouring this into a snifter and allowing it to warm slightly and breathe a bit helps bring out the flavors as you drink it.
Rogue Double Chocolate Stout
8.8% ABV, 68 IBU
Chocolate Easter bunnies. We're talking hollow chocolate bunnies. Solid chocolate bunnies are a menace. Rogue Chocolate Stout, which debuted for Valentine's Day in 2001, is an oatmeal chocolate chip cookie and a chocolate truffle together in a bed that had been strewn with hops. Now imagine the imperial version. Rogue's Double Chocolate smells like the inside of pain au chocolat thanks to ample bittersweet Dutch chocolate. Clocking in at 8.8 percent alcohol by volume and wearing a red 750ml casing, this 2010 World Beer Championships gold medal winner is definitely a hollow chocolate bunny.
---