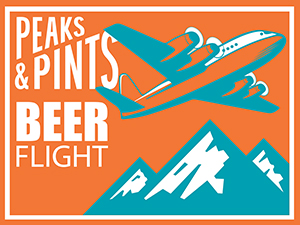 In the 1980s, annoyed that the forces of good had defeated him for millenia, Satan hatched a fool-proof plot: Taking over the world through the Dungeons & Dragons game that appealed to something like two percent of American high school students. D&D is a cornerstone of nerd-dom. In the tabletop game, participants role-play as elves, dwarves, wizards and more, slaying dragons, exploring foreign lands and fighting creatures who have less than noble intentions under the careful eye of a dungeon master. Well, geeks of the world, unite. You have nothing to lose but … nothing, because your day has come. We present Peaks and Pints Pilot Program: Dungeons and Dragons On The Fly, a to-go beer flight for D&D fans. We'd crack more geek jokes, but we would just be making fun of ourselves.
Peaks and Pints Pilot Program: Dungeons and Dragons On The Fly
Omnipollo Gygax
6% ABV
Dating back to 1974, Dungeons and Dragons was developed by Gary Gygax (a legend in the fantasy gaming world who died in 2008) and Dave Arneson for the company Tactical Studies Rules (TSR). After TSR went bankrupt in 1997, Wizards of the Coast, which also makes the popular fantasy card game Magic: The Gathering, bought D&D. If you're a geek of a certain age, chances are you spent many if not most Friday nights tossing 20-sided dice, absorbing Little Caesars pizza, and pretending to be a 10th-level Elf Druid with your friends. Swedish brewery Omnipollo founder and head brewer Henok Fentie must have been a fan too, naming his grapefruit tonic gose after Gygax. Brewed with grapefruit, quinine and lactose sugar, this sour has flavors of light grapefruit, lime, and touch of vanilla.
Urban Family Conjure
6% ABV
In D&D, a conjurer favors spells that produce objects and creatures out of thin air. A player can conjure billowing clouds of killing fog or summon creatures from elsewhere to fight on their behalf. As their mastery grows, they learn spells of transportation and can teleport themselves across vast distances, even to other planes of existence, in an instant. Urban Family Brewing's Conjure is a blueberry and acai sour with notes of blueberry on the nose, and acai berry rounding out the acidity with an earthy undertone at the finish. The bright blue color of this beer is truly a sight to see as well.
Loowit Paladin – Player's Handbook Series
6.4% ABV, 48 IBU
Loowit Brewing's Paladin is the sixth release in the Vancouver, Washington's experimental Player's Handbook IPA series inspired by their favorite role playing game, Dungeons and Dragons. A standard playable character class in D&D, the paladin is a holy knight, crusading in the name of good and order, and is a divine spellcaster. Brewed with heavy doses of German aroma hops such as Hull Melon and Mandarina Bavaria, Loowit's Paladin big floral notes, as well as fruity and citrusy flavors with mild bitterness and maltiness.
Breakside Giuseppe Warlock
8% ABV
Warlock is a D&D character class introduced as a non-core base class who practice arcane magic. They are seekers of the knowledge that lies hidden in the fabric of the multiverse. Through pacts made with mysterious beings of supernatural power, warlocks unlock magical effects both subtle and spectacular. Speaking of spectacular, Breakside Brewery's Giuseppe Warlock West Coast Double IPA is brewed with Mosaic and Nelson Sauvin for tropical, intense, white grape, diesel, and cantaloupe flavors.
---