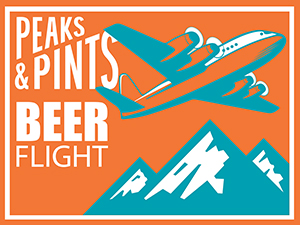 In September 2014, after seven years of homebrewing, writing business plans, watching Viking movies, and dialing in their branding, scientist Mark Bjornstad, builder Darin Montplaisir, businessperson Jesse Feigum, and engineer Mason Montplaisir opened Drekker Brewing Company in what was once North Dakota's most rough and rowdy frontier town, Fargo. Originally located in a downtown space where Drumconrath Brewing now operates, Drekker moved a few blocks west into a huge brick building that once housed a locomotive repair company. After pouring concrete over the tracks, Drekker installed brew tanks, pinball machines and 24 taps to serve their inventive beers. While a third of those offerings rotate out each fortnight, Drekker is always pouring thick smoothie sours and delicious hazy IPAs. By year's end, Drekker plans to open Brewhalla, an attached 100,000-square-foot food hall, event center, and 40-room hotel. Today, Peaks & Pints presents a to-go flight of Drekker beer — a flight we're calling Peaks and Pints Pilot Program: Drekker Brewing Flight.
Peaks and Pints Pilot Program: Drekker Brewing Flight
Drekker Slang Du Jour – Strawberry Shortcake
5.9% ABV
In the early 1600s, William Shakespeare used the name Alice Shortcake in "The Merry Wives Of Windsor." By 1850, strawberry shortcake was a well-known biscuit and fruit dessert served hot with butter and sweetened cream. Drekker's version is a pastry sour loaded up with strawberry, shortcakes, lactose, and vanilla soft serve ice cream.
Drekker Slang Du Jour – Apple Cobbler
6.4% ABV
The earliest apple cobbler recipe dates from 1824 but made popular in 1859 after the British American colonies named their stewed fruit dishes topped with batter, biscuit, or dumplings "cobbler." Cobblers can be made with any type of fruit or berry and are also known as slumps, grunts, and pandowdy. Drekker's pastry sour pandowdy begins with a ton of apple followed by pear, banana, vanilla ice cream, cream of coconut, lactose, cinnamon, brown sugar, and granola.
Drekker Braaaaaaaains Cranberry Cherry Plum
6.4% ABV
Part of Drekker's Braaaaaaaains pastry sour series, this winter version is brewed with fresh cranberries, juicy cherries, plums, and "double secret smoothie treatment" of sea salt, lactose, and vanilla beans keeps it extra smooth and creamy. It hits the tongue with tangy cranberry followed by sweet stone fruit and a subtly sour edge.
Drekker CHONK Cherry Drumstick
6% ABV
Cherry Drumstick Chonk is a decadent pastry sour stuffed with cherry, peanut butter, vanilla soft serve ice cream, waffle cones, lactose, and chocolate. ⠀
Drekker Creeper's Pet
7% ABV
Collaboration with Wild Terra Cider, this cider smoothie sour is stuffed with apple Juice from Red Delicious, Golden Delicious, Braeburn, Gala, and Fuji apples, as well as mango and guava and then they hit it with their double secret smoothie treatment of sea salt, lactose, and vanilla beans.
Drekker Phantom Hand
5% ABV
This hoppy pale ale is heavily hopped with Azacca, Idaho 7, and El Dorado hops for serious citrus hop aroma and a soft, smooth texture that gives way to a sneaky clean finish.
Drekker Mass Shadow
7% ABV
This hazy IPA is brewed with oats and spelt, then hopped with their hand-selected Citra and HBC 638, a new experimental hop, for serious tropical fruit flavor and aroma with notes of tart pineapple, creamy strawberry, and over-ripe cantaloupe.
Drekker Master Manipulator
8.2% ABV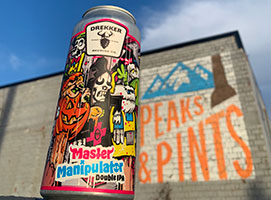 This hazy double IPA is loaded up with oats and spelt and hopped to the hilt with Drekker's hand selected Citra and Vic Secret for serious citrusy and peachy vibes.
LINK: Peaks & Pints cooler inventory
---