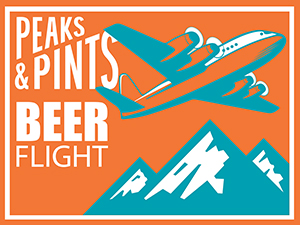 In early October 2022, Two Seattle beer scene veterans opened Bizarre Brewing with the goal of brewing lower ABV beers in a bona fide community space. Derek Brown and Colette Boilini met working at Fremont Brewing in 2014. Boilini has also served at Holy Mountain and both Cloudburst locations. Brown was the first outside brewing hire at Holy Mountain where he went on to lead their respected barrel-aged beer program. Bizarre Brewing recently opened their taproom inside the building Urban Family Brewing occupied in Seattle's Magnolia neighborhood before moving to Ballard. Today, Peaks & Pints presents a to-go flight of Bizarre Brewing beer — a flight we're calling Peaks and Pints Pilot Program: Bizarre Brewing Flight.
Peaks and Pints Pilot Program: Bizarre Brewing Flight
Bizarre The Sun Myth
5% ABV
Get ready for Bizarre's little Czech-style pilsner. Mashed with pilsner and chit malt, The Sun Myth is then hopped in the kettle with a blend of Saaz and Hallertau Mittelfrüh hops. This little nod to winter is then fermented cold and allowed to naturally carbonate itself. Once carbonated, the pilsner goes through a long cold lagering phase making it extra crisp. It's freakin' delicious with many layers.
Bizarre Bitter End
4.5% ABV
A riff on an English-style best bitter, Bitter End sees pale English malt, a selection of caramel malts, and Washington-grown buckwheat in the mash. It's hopped with East Kent Goldings, Harlequin and Saphir hops. Once cooled, Bizarre pitches their favorite English ale strain and allows it to ferment before spunding to natural carbonate.
Bizarre Sacred Bones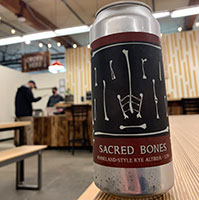 5.3% ABV
A Rhineland-style rye altbier brewed with German pale pilsner malt, a selection of Munich malts, a touch of debittered dark malt and flaked rye, then hopped with German Saaz and Saphir. Fermented with their favorite German ale strain, Bizarre's Sacred Bones then goes through cold fermentation before being spunded for natural carbonation, which Bizarre seems to have mastered.
LINK: Peaks & Pints cooler inventory
---