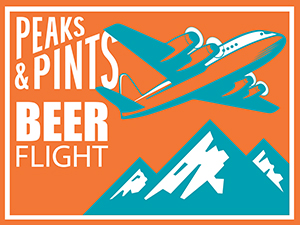 In September 2014, after seven years of homebrewing, writing business plans, watching Viking movies, and dialing in their branding, scientist Mark Bjornstad, builder Darin Montplaisir, businessperson Jesse Feigum, and engineer Mason Montplaisir opened Drekker Brewing in downtown Fargo, North Dakota. The brewery name is a nod to the region's Nordic heritage comprised of the words "drekka," which means "to drink," and "drykkr" which means "draft drink," and "drakkar," the name for the feared dragon-headed longships that ruled the rivers and seas of Europe during the Viking Age. Their epic adventure began with a 10-barrel system in a 5,200 sq. ft. building brewing approachable and sessionable traditional beer styles. Drekker grew into a four-vessel 15-barrel brewhouse. They gained traction with a popular red ale and IPAs of all clarities. Then, they conquered smoothie sours, often considered the ambassador of the style. Drekker makes them in all shapes and sizes, from pineapple, guava, and passionfruit to a sour that's designed to taste like a PB&J. Today, Peaks & Pints presents a to-go flight of Drekker beer — a flight we're calling Peaks and Pints Pilot Program: Drekker Beer Flight.
Peaks and Pints Pilot Program: Drekker Beer Flight
Drekker Braaaaaaaains Strawberry, Passionfruit, Apricot
6.6% ABV
Part of Drekker's Braaaaaaaains pastry sour series, Strawberry, Passionfruit, Apricot is loaded with said fruit, plus sea salt, lactose, and vanilla. It's thick, tart, and fruity with an amazing mouthfeel and begs to be drank for breakfast.
Drekker Slang du Jour – Pineapple Upside Down Cake
6.8% ABV
Drekker went full on Pineapple Upside Down Cake for this Slang Du Jour Sour a la Mode and stuffed in a ton of pineapple, cherry, brown sugar, granola, cinnamon, lactose, and vanilla beans for another one of those flavors that probably shouldn't taste so much like the real thing, but it totally does.
Drekker King of the Thing
8.3% ABV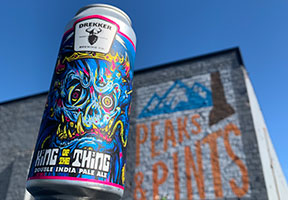 Designed to showcase to the beauty and splendor of Citra, Drekker's King of the Thing imperial hazy IPA is built on a mountain of oats and spelt for a decadent and smooth mouthfeel. On the tongue, expect notes of lychee, candied lemon, and peach Bellini.
LINK: Peaks & Pints cooler inventory
---