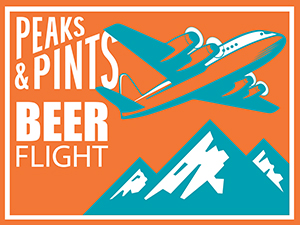 Peaks & Pints has Delaware on the brain. Sam Calagione started making beer in 1995 when he opened Dogfish Head Brewings & Eats in the beach community of Rehoboth Beach, Delaware. It was the smallest commercial brewery in America at that time. Within a few successful years, the company activated a major expansion, switching from making very small, homebrew-style batches to industrial-sized sessions in a sizeable brew house. Dogfish Head Craft Brewed Ales expanded and moved to a 100,000 square foot facility in nearby Milton, Delaware in 2002. They're one of the largest craft brewers in America but yet there may be no brewery today that exhibits such a dedication to experimentation and boundary pushing. With good vibes about Delaware, Peaks & Pints presents a to-go flight of Dogfish Head beer that we call Peaks and Pints Pilot Program: Dogfish Head On the Fly.
Peaks and Pints Pilot Program: Dogfish Head On the Fly
Dogfish Head SeaQuench Ale
4.9% ABV, 10 IBU
SeaQuench Ale is a session sour mash-up of a crisp Kolsch with lots of wheat and Munich malt, a salty gose with black limes, coriander and sea salt, and a citrusy-tart Berliner weiss made with lime juice and lime peel, blended together in the fermentation tank to create this German hybrid. Dogfish Head's experimentation focuses on three thirst-quenching styles with German roots, but no single style quite hit the mark and mood the brewery was going for — so it blended them for a cloudy gold brew with a savory and citrusy smell. It has a fair amount of tart wheat and coriander character, but the salt and lime are extremely strong. There are many goses brewed in the same vein, but not many are this dry, bright and thirst quenching.
Dogfish Head Costumes & Karaoke
8% ABV, 30 IBU
"With Costumes & Karaoke, I wanted to bring to life — in beer form — the intricate flavors and esters found in one of my favorite drinks, a golden milk latte," said Sam Calagione in a statement. "Golden milk, or Haldi Ka Doodh, is a turmeric-infused milk with origins dating back centuries." Costumes & Karaoke is a golden tea-inspired imperial oat cream ale built upon a sophisticated blend of spices, including vanilla beans, ginger, cinnamon and turmeric. The resulting vibrant gold liquid is filled with aromas of ginger, cardamom, anise and vanilla, and sweet and spicy flavors of ginger, citrus and cardamom.
Dogfish Head Campfire Amplifier
6.5% ABV, 35 IBU
Dogfish Head has released Campfire Amplifier, a milk stout brewed with real marshmallows, graham crackers, coca nibs, cinnamon, Madagascar vanilla beans and a pinch of smoked malt. Inspired by fall nights around the campfire, this chilly-weather-warmer hits the nose with chocolate, vanilla, graham cracker, light roast and subtle smoke, followed by notes of milk chocolate, vanilla and of course, s'mores. Campfire Amplifier's illustration-based artwork features a colorful group of misfit characters congregating around a campfire. A figure with a marshmallow head, whose melting face suggests he is hanging out a little too close to the flames, plays campfire songs on a ukulele. As a group of only three, the characters quickly realize there is no need to amplify their tunes. So, they throw their Dogfish Head-branded speaker into the fire and watch it burn as a full moon looms in the star-studded sky above.
Dogfish Head 60 Minute IPA
6% ABV, 60 IBU
No stranger to IPA fans, Dogfish Head's 60 Minute IPA is continuously hopped with more than 60 hop additions over the entire boil to create a powerful yet balanced East Coast blend with a ton of citrusy hop character. Inspired by a cooking segment he saw in the late '90s where a chef added little increments of pepper over an extended period to enhance flavor, Calagione turned to a vibrating magnetic football game to create a system that would continuously add hop pellets during the entire time a beer boiled. The 60 minutes of continuous "A Northwest Hop" contributes to sweet aroma of apricot and pear — similar to a Riesling. The beer doesn't taste as sweet as it smells and instead we get notes pungent grapefruit pith with a slight bitterness.
Dogfish Head 90 Minute IPA
9% ABV, 90 IBU
The 90 Minute IPA, which debuted in 2001, is the first beer that Dogfish Head continuously hops, adding hops for 90 minutes during the boil for bitterness, and then dry-hop in the fermentation casks to achieve high aroma and flavor. Despite the massive amounts of hops, a clean, grainy malt character ekes through — maple and golden raisin — balancing some of the bitterness and grassy flavors.
---