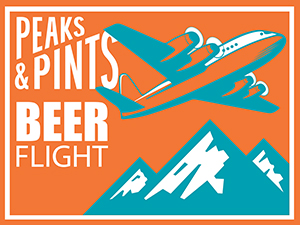 Tacoma's Proctor District projection of a Darkwave taking control of Peaks & Pints craft beer and cider lodge, bottle shop and restaurant during Thanksgiving week came true. Starting at 11 a.m. Monday, Nov. 21 and running through 11 p.m. Black Friday, Friday, Nov. 25, some of the elusive elixirs that will course their way through Peaks & Pints draft lines include Great Notion Double Stack, Pohjala Cocobanger, Goose Island Bourbon County 2021 and 2022, AleSmith Minister of State, AleSmith Vietnamese Speedway Stout, Firestone Walker Orange Bitter Parabola, and many others. In celebration, Peaks & Pints pulled some barrel-aged dark beers from our cellar for a to-go flight to enjoy during the holidays. Stop by Peaks & Pints and grab Peaks and Pints Pilot Program: Darkwave 2022 Beer Flight. Peaks & Pints will be really dark Thanksgiving Day as we'll be closed.
Peaks and Pints Pilot Program: Darkwave 2022 Beer Flight
Eel River Raven's Eye
9.5% ABV
Eel River Brewing's complex Russian imperial stout is brewed with a combination of nine domestic and imported malts balanced by Pacific Northwest hops. Black in color with a tan head, expect aromas of roast malts, oak, oaked red wine, liquorice, chocolate, prunes, and mild coffee, followed by slightly sweet flavor with the same elements as in the aroma, with the roast malts, coffee, and chocolate notes coming forward, plus hints of vanilla.
Fremont 2022 Coconut Cacao Barrel Aged Dark Star
13.5% ABV
Awarded a Washington beer Awards Silver medal in the Wood & Barrel Aged Imperial Stouts category, Fremont Brewing's Coconut Cacao Barrel Aged Dark Star is a blend of 24-, 18-, 12-, and 8-month Bourbon Barrel-Aged Dark Star in 7- to 12-year-old Kentucky bourbon barrels. Then Fremont adds all the coconut and Theo Chocolate cacao nibs. Think dark, mocha chocolate truffle filled with a rich and creamy coconut filling with a splash of bourbon on top. Like its base, it finishes a touch sweet, but never cloying.
Fremont 2022 B-Bomb Coffee Cinnamon
13.5% ABV
Aged in 8- to 12-year-old American oak bourbon barrels and blended with 9-, 12-, and 24-month-old barrel-aged Fremont Winter Ales, this January 2022 special B-Bomb Bourbon Barrel Aged Winter Ale edition adds cold brew coffee and cinnamon bark to complement the bourbon, oak, cacao, leather, toffee, and dark coffee notes.
Fremont 2022 The Rusty Nail
13.6% ABV
Fremont Brewing's The Rusty Nail begins life as The First Nail, an oatmeal stout of epic proportions with brewer's licorice, smoked barley, and pale malt, and then aged on cinnamon bark. It becomes The Rusty Nail after spending 15 months in 12-year-old bourbon barrels. Released in June 2022, the cinnamon and hot bourbon have slightly mellowed with the chocolate, vanilla, fudge, and roasty coffee moving to the forefront. It's freakin' delicious.
Reuben's BBIS 2022
14% ABV
Reuben's Brews' Bourbon Barrel Imperial Stout, or BBIS, has been years in the making. It's brewed using the same oat-forward and British specialty malt recipe that they followed with the original release in 2013. Over the years Reuben's has adjusted and enhanced it, introducing new techniques to produce a bigger, richer, and silkier beer. Most of the barrels in this year's blend have spent about 18 months aging in 8- to 12-year-old bourbon barrels, with the addition of some younger BBIS to contribute to the complexity of this bold imperial stout.
LINK: Peaks & Pints cooler inventory
---