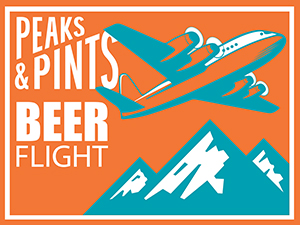 What makes a dark beer dark? It all comes down to the malts. Though all beer relies on malts (cereal grains that have been allowed to germinate, then dried to halt the germination process), dark beers are unique in their use of black and dark malts. These grains are heavily roasted to achieve the characteristic color as well as the caramelized, toasty flavors we love. The blanket term "dark beer" encompasses everything from classic styles like schwarzbier (a dark German lager) to the return of black IPAs. The most familiar dark beers, however, are generally billed as either porters or stouts. As it turns out, the line between those two styles is rather blurry indeed, and many argue that there is no practical difference at all. Historically, stouts evolved from porters, with English brewers aiming to create a "stouter" version of their country's beloved porter beers. Though the two styles often overlap, today's stouts still tend to be a bit bolder and stronger than easy-drinking porters. Within those two broad categories is a range of styles to suit any palate. Peaks & Pints continues our Darkwave salute to dark beers with seven on tap and to-go flights of dark beers through Black Friday. Get ready for another to-go flight of dark beers in what we call Peaks and Pints Pilot Program: Dark Beer Flight.
Peaks and Pints Pilot Program: Dark Beer Flight
Wet Coast Holiday Jeer!
6.5% ABV
Wet Coast Brewing builds their annual Holiday Jeer! Winter ale around a full-bodied stout and then hit it in the face with big dose of molasses to provide notes of prunes and burnt sugar. They top it off with the addition of ginger, allspice, cinnamon, nutmeg, and cloves and this dark beer turns into the fire-side sipper your holidays require.
Rainy Daze Haulin' Oats
7.4% ABV, 35 IBU
Rainy Daze Brewing's velvety oatmeal stout hits the nose with dark toasted malt, cocoa, slight coffee, and vanilla. The flavor is dark toasted malt with moderate char, coffee, baking chocolate and a touch of vanilla. It's a solid, roasty oatmeal stout with a medium body and moderate creaminess topped mild bitter chocolate notes and slight vanilla.
Pelican Bad Santa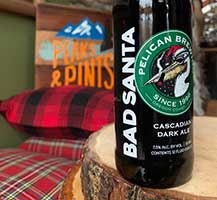 7.5% ABV, 65 IBU
"I Saw Mommy Kissing Santa Claus," sung by former jockey Jimmy Boyd, takes a humorous approach to a child's shocking discovery of his mother's infidelity. The Pelican Pub & Brewery in Pacific City, Oregon, brews a Cascadian dark ale that pairs with Mommy's merry adulterer — Bad Santa. This mysterious dark elixir is filled with complex malt flavors and aromas with toasted malt and roast character, blending seamlessly to the alluring herbal hop aroma that comes from copious amounts of Fuggle hops. Bad Santa doesn't care if Jack Skellington has been naughty or nice; he just wants Mommy.
Great Divide Horchata Yeti
9.5% ABV
With origins dating back to the 13th century, horchata-like beverages have a cross-cultural appeal similar to Great Divide Brewing's mystical Yeti. New World versions of the creamy beverage utilize a white rice base as does Great Divide's Horchata Yeti imperial stout. Rice is added to the base Yeti imperials stout malt bill along with lactose sugar to impart creaminess and sweetness. Cinnamon and vanilla enhance the pastry-esque qualities of this stout.
Bale Breaker Wood & Wire
10% ABV
Aged for 2 months in whiskey barrels, this full-bodied, robust imperial whiskey stout hits the nose with chocolate, smoke, bourbon, and vanilla. Bale Breaker Brewing utilizes 10 malt varieties for complexity, then balances the beast with Simcoe, Palisade, and Ahtanum hops. It's a two-time bronze winner at the Washington Beer Awards too.
LINK: Peaks & Pints cooler inventory
---