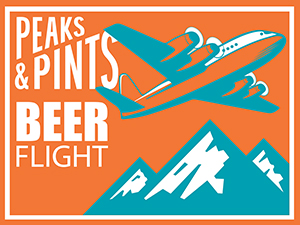 According to the Beer Judge Certification Program, the Dark British Beer category "contains average to strong, bitter to sweet, modern British and Irish stouts that originated in England even if some are now more widely associated with Ireland. For our to-go beer flight today we offer four Dark British Beer styles — Sweet Stout, Oatmeal Stout, Tropical Stout and Foreign Extra Stout — in a flight we call Peaks and Pints Pilot Program: Dark British Beer On The Fly, although we offer the American version of each style. These stouts pair well with apple crumble, banana dishes, chocolate desserts, crème brûlée, ice cream, Mexican cuisine, shepherd's pie, strongly flavored cheese such as Stilton, and tiramisu.
Peaks and Pints Pilot Program: Dark British Beer On The Fly
Against The Grain 35K
7% ABV, 26 IBU, can

SWEET STOUT: Sweet stout is an English style of stout developed in the early 1900s. Historically known as "Milk" or "Cream" stouts, legally this designation is no longer permitted in England (but is acceptable elsewhere). The "milk" name is derived from the use of lactose, or milk sugar, as a sweetener. An American version would be Against The Grain Brewery's 35K. Located in a former train station on Main Street in Louisville, Kentucky, this rapidly expanding brewery and restaurant brews on a 15-barrel system, in addition to brewing at Pub Dog Brewery in Maryland. It's 35K is a sweet stout brewed with Nugget and Crystal hops, the beer pours an inky black with slight red hues when held up to the light. Roasty and rich in the nose with a mildly sour and musty aroma, 35k Stout is sweet but finished dry with a lactose flavor.
Fremont Dark Star Imperial Oatmeal Stout
8% ABV, 50 IBU, can

OATMEAL STOUT: The oatmeal stout is a variant of nourishing or invalid stouts of the late 1800s using oatmeal in the grist, similar to the development of sweet stout that used lactose. An original Scottish version used a significant amount of oat malt. Later went through a shady phase where some English brewers would throw a handful of oats into their parti-gyled stouts in order to legally produce a "healthy" oatmeal stout for marketing purposes. Most popular in England between the World Wars, was revived in the craft beer era for export, which helped lead to its adoption as a popular modern American craft beer style that uses a noticeable (not symbolic) quantity of oats. Fremont Brewing's Dark Star imperial oatmeal stout offers hints of coffee and chocolate in their silky-smooth beer. It's uncommon that such a robust beer finds its way into a 12-ounce can, but nobody ever accused Fremont Brewing of being normal.
Diamond Knot Tropic Island Stout
7% ABV, 40 IBU, can

TROPICAL STOUT: The tropical stout was originally a high-gravity stout brewed for tropical markets, then became popular and imitated by local brewers often using local sugars and ingredients. They are similar to a sweet stout, but with more gravity. Brewed with pale and dark roasted malts and grains, plus hops mostly for bitterness, tropical stouts may use adjuncts and sugar to boost gravity, as well as warm-fermented lager yeast. Diamond Knot's Tropic Island Stout sports the traditional sweetness, plus dark roast flavors and an espresso-like finish.
Wander Correspondent Foreign Extra Stout
6.4% ABV, 40 IBU, can

FOREIGN EXTRA STOUT: This stout style is brewed for the export market today, but with a history stretching back to the 18th and 19th centuries when they were more heavily-hopped versions of stronger export stouts. Wander Brewing scored a gold at the 2017 Great American Beer Festival for its Correspondent Foreign Extra Stout. Typical for the foreign extra stout style, Wander hits a higher gravity, but blow imperial numbers, for sweet, darkly-toasted caramel and some milk chocolate from the malts, but mostly toasty grain, followed by a nice sweet pine note and long mildly sweet finish. A creamy, medium body with lively carbonation goes for the gold.
---