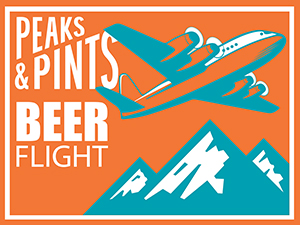 In 1994, Tomas and April Sluiter left their bakery jobs in Grand Rapids, Michigan, and hit the road. They traveled extensively. Then, in the summer of 2000, they discovered Portland, Oregon. Thomas took an assistant brewer job at the Old Market Pub in Southwest Portland. Within two weeks of his hire, the head brewer quit and Tomas was thrown into that role. He dismantled the old, tired brewing system and refurbished a 15-barrel system. In January 2017, seven years after Tomas left Old Market and almost two years after attempting to open his brewery in Portland's Goose Hollow neighborhood, he and April opened Culmination Brewing in Northeast Portland's Bindery Annex building. Tomas, now a certified Master Brewer, built his dream brewery in the 7,000-square-foot space kitted out with gravity-fed tanks. Peaks and Pints has four new Culmination Brewing craft beers in the cooler, so welcome to our to-go beer flight, Peaks and Pints Pilot Program: Culmination On The Fly.
Peaks and Pints Pilot Program: Culmination On The Fly
Culmination Neon Valley
5.5% ABV
Beers are traditionally carbed with CO2, but switch that to nitrogen, and the smaller bubbles create a creamy texture and a signature cascading pour effect. It's been mostly a draft phenomenon, but today more breweries are tinkering with canning and bottling nitrogenated beers, including Culmination. When a drop of liquid nitrogen is added to their Neon Valley sour ale the guava, strawberry, key lime, and vanilla flavors are delivered more like a fruit smoothie.
Culmination Sour Flower
5.5% ABV
Cucumber flavor has a soothing, chill-out quality that makes it a favorite addition to ice water at your neighborhood spa. That same sensation can be employed to great effect in the right beer, such as Culmination's most recent Sour Flower series offering: Cucumber and Elder Flower Sour Ale. Culmination's rotating Sour Flower series foraged some elderflower for sweet floral aromas combined with the fresh tang of seasonal cucumbers.
Culmination Psychic Oasis Hazy IPA
7.5% ABV
Originally brewed with the fine folks at Belmont Station bottle shop in Portland for the their 22nd anniversary, this latest version of Psychic Oasis Hazy IPA is overstuffed with Citra, Mosaic, and Motueka, the New Zealand hop that possesses notes of lemon and lime perfect for the heat, with the other hops adding more citrus, tropical and stone fruit flavors.
Culmination Invisible Forces
7.4% ABV
Culmination's Invisible Forces hazy IPA returns jam packed with El Dorado and Sultana hops. This combination is a harmonious one with a guava, passionfruit, and pineapple sour tart nose with some sweetness. Taste is more naval orange, pineapple, and diesel.
---