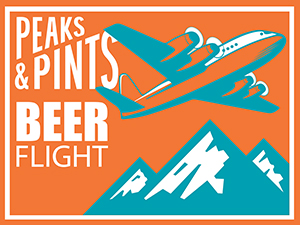 Nothing elicits childhood memories of lazy summertime days quite so well as an orange creamsicle from the ice cream truck. Lucky us — craft brewers and cidermakers were kids once too. They use a few different tools to achieve the vanilla-orange combination beers and ciders. Many use citrusy hops, especially Citra, to impart orange aroma and flavor, though breweries could also use orange zest or orange extract. The addition of vanilla bean or lactose (milk sugar) or both in the brewing process creates the ice-cream impression, and your brain's hippocampus fills in the blanks until you reach our craft beer and cider lodge for Peaks and Pints Pilot Program: Creamsicle On The Fly. I scream, you scream.
Peaks and Pints Pilot Program: Creamsicle On The Fly
Avid Orange Creamsicle
6.2% ABV
The newest creation from Avid Cider Co. isn't inspired by apples. Instead, the cider is firmly rooted in the wild and imaginative world of craft beer. Inspired by the culinary or milkshake India pale ales filling up the shelves, this delightful treat combines Valencia oranges and a touch of vanilla in a flavorful combination that is reminiscent of the classic orange creamsicle.
Mother Earth Cali Creamin' Creamsicle
5% ABV, 20 IBU
In 2010, Daniel Love opened Mother Earth Brewing Co. in Vista, California, just north of San Diego. After an expansion in Vista, he then set his sights on a larger expansion that saw the opening of its second location, one a fair distance away from San Diego County to Nampa, Idaho, a suburb of Boise. Whether you're road tripping to Vista or Boise, bring along Cali Creamin' Creamsicle. For the past few years, Mother Earth's best selling beer in San Diego has been its Cali Creamin' Madagascar vanilla cream ale. It became a Creamsicle after Mother added Valencia orange. Cali Creamsicle features hints of vanilla and a distinct citrus cream flavor that finishes slightly sweeter than it's Cream Ale counterpart.
Matchless Dreamsicle IPA
7.5% ABV
Matchless Brewing adores Sophie's Scoops Gelateria in Olympia. The locally owned, scratch-made gelato shop offers an ever-changing selection of flavors, which could be said of Matchless too. Sophie's inspired the Tumwater brewery to create a juicy grapefruit and orange forward hazy IPA infused with vanilla beans. No lactose was used to make this creamy IPA.
Short Throw Dripping With Class
10% ABV
Five months after his planned brick-and-mortar spot fell through, Virginian Brandon Tolbert moved his Short Throw Brewing Co. to the Twelve Percent Beer Project facility, a contract brewery near New Haven, Connecticut. This time they teamed up with Bottle Logic Brewing to brew this triple IPA with Strata, Lotus, and Mosaic hops for sweet notes of orange creamsicle and mandarin.
---