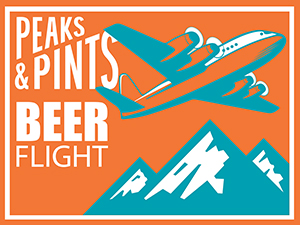 It will be mostly sunny today in the greater Tacoma area, but it will be a cold one. After a night of freezing rain, hail, and temperatures in the low 20s, the high will be 36 degrees today working its way to below freezing temperatures tonight. For today's to-go beer flight, Peaks & Pints is thinking bourbon barrel-aged imperial stouts would be warming. The beer style's flavor tends to be big, boozy, chewy and demands you slow down and savor the stouts. After all, when it's cold outside, who wants to be gulping down cold ones? No, when you are sitting next to our fireplace, you want a drink that you can slow down with and sip contemplatively while you stare and the flames and consider your mortality. Bundle up and make you way to Peaks & Pints for a to-go flight of boozy barrel-aged imperial stouts in a can — a flight we're calling Peaks and Pints Pilot Program: Cozy Boozy Stout Can Flight.
Peaks and Pints Pilot Program: Cozy Boozy Stout Can Flight
Firestone Walker Parabolita
9.2% ABV
Firestone Walker ages their Parabola barrel-aged imperial stout for one year in premium bourbon barrels, then blends it with a complement of Velvet Merlin milk stout, and finally infuses with whole Madagascar vanilla beans, cocoa nibs, and sea salt to for a salted caramel-style stout for roast, cocoa nibs, vanilla, and caramel notes with a big vanilla bean finish in a 16-ounce can.
Oskar Blues Ten FIDY
10.5% ABV
We have heard multiple theories behind the origin of the enigmatic title of Oskar Blues beloved and impossibly viscous "Ten FIDY" Imperial Stout. The simplest explanation is that the brew has an ABV of 10.5 percent hence a slangified name that sounds like "ten fifty." Since the craft beer pours like motor oil the name could play off 10W-50 grade motor oil, Peaks and Pints believes the name refers to 10:50 p.m. — when we enjoy grabbing some time back with the inimitable flavors of chocolate-covered caramel and coffee. There are layers of malty sweetness — hello chocolate malt — but this beer is so roasted — hello roasted barley — and so hoppy that it comes off as bitter as hell, like the darkest chocolate matched with the blackest coffee kind of bitter. Speaking of dark, make sure you have some White Strips handy. The dark stout in a 12-ounce will paint your kisser black. 
Single Hill Dawn Awaits
11.8% ABV

In August 2016, Ty Paxton and Zach Turner opened Single Hill Brewing in an old JC Penney Tire Center in downtown Yakima. They first met at a cider pressing party that a mutual friend was hosting in 2013. Three years later, over pints at Bale Breaking Brewing, the two hatch the idea for a community-based brewery in a town dear to their hearts. Their Dawn Awaits (in a 12-ounce can) is a Westland American Single Malt Whiskey barrel-aged imperial stout blended with fresh stout and infused with Yakima Valley roasted coffee, toasted coconut, and Ghanaian cocoa nibs.
Lumberbeard Barrel Fort
15.6% ABV
Bret Gordon left the University of Colorado with a degree in Economics and a passion for craft beer. It didn't take long for him to realize that being at a desk was not for him and he wanted to become a professional brewer. That passion led him and his family to California where he went back to school to earn a Professional Brewing Certificate at the University of San Diego. From there, Gordon worked as a professional brewer for several years at SoCal breweries, including The Bruery. In 2018, Gordon and his family traveled north to Spokane and opened Lumberbeard Brewing, a 20-barrel brewhouse on the east end of downtown. The first release in their Barrel Fort series, this boozy, bourbon barrel aged stout sees a hefty dose of hazelnut for big wood, chocolate, nut, and bourbon flavors in a 16-ounce can.
LINK: Peaks & Pints cooler inventory
---