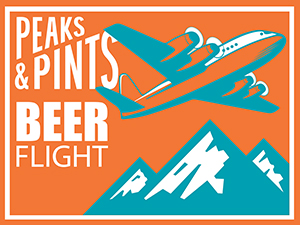 Childhood friends Jim Solberg and Roger Worthington reunited in 2008 to create Indie Hops and reboot Oregon State University's hop-breeding program with a huge donation. They were determined to do something new and enlisted Shaun Townsend, a PhD in breeding and genetics, to lead the effort. They gave him the mandate of breeding a hop that could flourish in the Willamette Valley, produce a hop with associated with mango, oranges and other fruits and herbs. Eventually X-331 emerged, which was later named Strata. Citra hops, well, the name says it all. A relatively new hop on the scene (released in 2008 by Hop Breeding Company of Yakima), Citra adds the trademark blend of juicy citrus and tropical fruit that have made them so sought-after in the brewing industry. When combined, Citra and Strata hops create an out-of-this-world aroma and flavor experience, full of bouquets of fruit notes combined with a pleasing herbal-dank-resin punch. Today, Peaks & Pints suggests you enjoy a flight of hazy beers brewed with Citra and Strata hops — a flight we're calling Peaks and Pints Pilot Program: Citra and Strata On the Fly.
Peaks and Pints Pilot Program: Citra and Strata On the Fly
Reuben's Hazealicious
6% ABV
Reuben's Brews' Hazealicious IPA is juicy, with a soft bitterness, providing a perfect balance for a hazy IPA. Tropical aromas, particularly kiwi and passionfruit, come from a bold blend of Citra, Strata, and Mosaic hops. The show-stopping hops are balanced and gently restrained by a pillowy malt body.
Equilibrium Bitrate Fluctuation
8.5% ABV
In 2016, MIT graduates and friends Peter Oates and Ricardo Petroni opened Equilibrium Brewery in Middletown, New York. The two professional scientists became obsessed with New England hazy IPAs using all their education in water chemistry and such to brew amazing hazies including Bitrate Fluctuation, a hazy double IPA brewed with oats and wheat, Citra in the whirlpool and a dry hop of Citra, Strata, Lotus and BRU-1 for flavors of tropical orange, papaya, rich saturated pineapple, and bright berries in a creamy EQjuice finish.
Moonraker Some Grass
7% ABV
Born in 2009, Strata, formerly known as X-331, is the progeny of an open-pollinated Perle located in an Oregon State University experimental field at Corvallis, Oregon. The hop produces flavors of strawberry, passionfruit, grapefruit, and dankness. Added with Citra's citrus brewing characteristics, Moonraker Brewing's Some Grass hazy IPA billows of dank fruity pebble oil clouds with orange on the nose followed by pine, citrus, tropical and dank notes.
Gigantic Fuzz Wumper Hazy IPA
7.5% ABV
Named after the legendary Pacific Northwest Fuzz Wumper — a hairy, one eyed, jovial beast which survives solely on this region's infamous hoppy beers — this Gigantic Brewing hazy IPA is brewed with Strata and Citra hops to satisfy the friendly beast's need for flavors of mandarin orange, passionfruit, and grapefruit that only hops can provide.  The Oregon grown Strata hop is a beautiful thing with its intense tropical fruit and grapefruit aroma and flavor. Paired with Citra and Crystal hops, it unleashes a multitude of citrus and tropical fruit aromas and flavors.
---