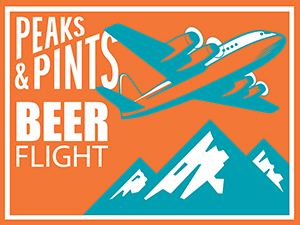 If meat is the primary culprit in the 40-day struggle against desires of the flesh, sugar's not far behind. Today is National Chocolate Parfait Day. Yes, you heard right: chocolate on May Day. Parfait literally means "perfect" in French!  There are a couple of ways to make parfaits. The traditional French-style uses sugar syrup, eggs and cream. The American style layers parfait cream, ice cream and/or flavored gelatin in a tall, clear glass topped with whipped cream, fruit and/or liqueurs. Brewers add chocolate and creaminess to their craft beer. The parfait has recently taken healthy turn using yogurt layered with nuts and fresh fruits, instead of ice cream and sugary syrups, which is craziness. Wait, what about that beer thing? Indeed, Peaks and Pints offers a to-go flight of creamy chocolate beer, which we're calling Peaks and Pints Pilot Program: Chocolate Parfait On The Fly.
Peaks and Pints Pilot Program: Chocolate Parfait On The Fly
Young's Double Chocolate Stout
5.2% ABV
Based out of England, Young's Brewery produces a Double Chocolate Stout that perfectly combines a roasted malt with cocoa in the style of a sweet stout by using a proprietary blend of sugars instead of lactose. Creamy chocolaty sweetness coats the tongue like liquid silk. The malty, chocolaty smoothness dives into roasted malt bitterness that tingles through the aftertaste with vanilla accents. The chocolate's truly the chip off the old stout.
Perennial Fantastic Voyage
8.8% ABV
Perennial Artisan Ales brewer Jim Leabig wanted to drink a German chocolate cake, so he brewed Fantastic Voyage — a harmonic melange of coconut and imperial milk stout. Loads of coconut, lactose and black malt balance each other to provide flavors reminiscent of chocolate covered coconut with light vanilla and a finish smooth like silk sheets. Flavor is moderate to heavy sweet, light to moderate bitter and delicious to super delicious.
Dugges/Stillwater Cocoa Cacao
11.5% ABV
Mikael Dugge Engstrom opened Dugges Bryggeri in 2005 blowing Sweden's mind with the fruitiest kettle sours and this imperial chocolate stout brewed with "gypsy" brewer Brian Strumke of Stillwater Artisanal Ales. Brewed with cacao, coconut and vanilla, it tastes like a chocolate candy bar with semi-sweet milky cocoa to the fore but with a laid back boozy finish.
Evil Twin Even More Coco Jesus
12% ABV, 75 IBU
Jeppe Jarnit-Bjergsø, the founder and man behind Evil Twin Brewing, was a physics and English teacher in his native Denmark before starting Copenhagen's Ølbutikken, a highly regarded beer store. He's also an evil twin himself. His brother, Mikkel Borg Bergsø, brews under the Mikkeller label. Jarnit-Bjergsø, however, has done his best to outshine the good twin. He founded Evil Twin in 2010 as a nomadic brewery. In 2012, Jeppe Jarnit-Bjergsø gave up his nomadic brewing days and opened Evil Twin in Brooklyn. His Even More Coco Jesus is thick as fudge with pitch-black color, amazingly overwhelming aromas of chocolate, coffee, dark fruits, muscovado sugar, maple syrup and coconut. Taste has an initial bittersweet beginning with a balance of roasted, earthy coffee and fudgey sweetness. Then, there's melted milk chocolate, a sweet slick of maple syrup and a long, oily, palate-coating finish.
---