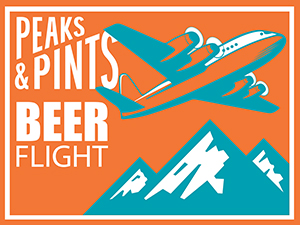 Have you been racking your brain, looking for just the right way to celebrate National Chocolate Covered Cashews Day? Wait — you weren't even aware that this important holiday takes place every April 21? Oh. My. Imagine it — the slightly bitter taste of the cocoa powder hits your tongue. Then, a layer of creamy dark chocolate pulls the taste back from the edge, without becoming too sweet. And finally, the satisfying crunch of a fresh cashew. OK, dialed in? We have the perfect way to celebrate this important holiday: Peaks and Pints Pilot Program: Chocolate Nuts On The Fly. That's right! A to-go flight of chocolate and nut favored beer in bottles and cans — all above 8 percent, yo.
Peaks and Pints Pilot Program: Chocolate Nuts On The Fly
Wingman P-51 Peanut Butter Cup Porter
8% ABV
Wingman Brewers introduced a peanut butter and coconut porter to the Port Townsend Strange Brewfest several years ago. At its 2014 Porterpalooza festival, the Tacoma brewery dropped the coconut and added chocolate. It was a huge hit. It re-appeared for Porterpalooza 2015, this time in 22-ounce bottles as a seasonal. Peanut Butter Cup Porter tastes like a Reese's Peanut Butter Cup full of rich peanut, chocolate, some light roasted notes and a decent amount of sweetness.
Mother Earth Sin-Tax Imperial Peanut Butter Stout
8.1% ABV, 66 IBU
Mother Earth Brewing's Sin-Tax is an imperial stout first and foremost. Deep dark malts lend espresso notes and British crystal malts contribute the perfect toffee and caramel flavor. Despite the dry finish there is a wonderful molasses character compliments of brown cane sugar, and just enough residual sugar to finish full-bodied but never cloying. The peanut butter has been applied quite subtly and appears only in the very end, only to disappear again quickly.
Belching Beaver Barrel Aged Viva La Beaver
12.5% ABV
Belching Beaver Brewery aged their Viva La Beaver peanut butter milk stout in rye whiskey barrels for 14 months for immense chocolate and cinnamon flavors integrate with the booze.

Hoof Hearted Even More Tennis Elbow
13% ABV
A collaboration with Evil Twin Brewing, this triple IPA double mashed imperial stout is brewed with hazelnut, coconut, and vanilla. It hits the nose with sweet malts, chocolate, light spice, toffee, and nuts. On the tongue, expect Nutella, mellow roast, dried fruits, nuts, light char, toffee, and molasses.
---