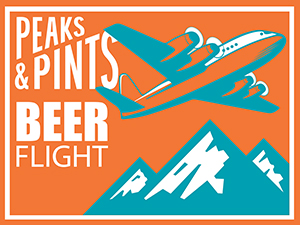 After being relentlessly hounded by a spamming cake marketer — which conjured up horrific mental imagery of frosting — we are capitulating. We will inform you that today, Wednesday, January 27, is National Chocolate Cake Day. In the spirit of National Chocolate Cake Day — which has yet to be declared an official holiday — we're playing to our craft beer. Luckily for us craft beer lovers, there are many delicious and unique chocolate beers being crafted by U.S. breweries — just in time for this national day. Chocolate adds complexity, well-roundedness, and smoothness to a beer's flavor, whether its chocolate is added to the brewing process or chocolate malts are incorporated. Both chocolate additions are represented in our to-go beer flight today, Peaks and Pints Pilot Program: Chocolate Cake Day On the Fly.
Peaks and Pints Pilot Program: Chocolate Cake Day On the Fly
Level Chocolate Dynamite
6% ABV, 33 IBU
Treat yourself to this dynamite chocolate stout that's made using the ethically-sourced Rugoso beans from Nicaragua, Nueva Guinea. This bean variety was awarded the Cocoa of excellence at the International Cocoa Awards in 2015 and, during the same year, Nicaragua was recognized as a 100 percent fine cocoa origin country. Level Beer's Chocolate Dynamite is conditioned on Rugoso cocoa nibs for a decadent finish. Expect a nice balance of roasted malt flavors and chocolate.
Double Mountain Chocolate Stout
6.8% ABV, 55 IBU
Ranger Chocolate imports all of its beans from three regions of Peru, making a bar with each: San Martin (70 percent), Tumbes (73 percent) and Chulucanas (80 percent). Our guess Double Mountain Brewery picked the Chulucanas when they collaborated with Ranger Chocolate on their Chocolate Stout. We get dark fruit notes in the stout, as well as bakers chocolate, molasses, and dark bread. Yes, it's chocolatey, but first and foremost it's a stout.
Bend Trade War Export Stout
7.5% ABV, 31 IBU
Bend Brewing's foreign style stout is brewed with a blend of Golden Promise and Canadian two-row, six different specialty malts and flaked barley. The mouthfeel is slick and full, rich and oily. The aroma of coffee and chocolate hit first, followed by toasty malts and a slight hoppy scent. The taste stouts full of dark malt flavor, coffee, burnt caramel and decadent chocolate. The finish has a sneaky chocolate milk-esque attack that slides in and lingers a bit after the flavor evolution.
Rogue Double Chocolate Stout
8.8% ABV, 68 IBU
Rogue Ales Double Chocolate Stout, which debuted for Valentine's Day in 2001, is an oatmeal chocolate chip cookie and a chocolate truffle together in a bed that had been strewn with hops. Now imagine the imperial version. Rogue's Double Chocolate smells like the inside of pain au chocolat thanks to ample bittersweet Dutch chocolate. Clocking in at 8.8 percent alcohol by volume and wearing a red 750ml casing, this 2010 World Beer Championships gold medal winner is definitely a one-beer buzz.
Ex Novo Kill the Sun Mexican Hot Chocolate
11.8% ABV
Ex Novo Brewing's Kill The Sun imperial stout is aged in Heaven Hill Distillery and Westward Whiskey barrels for notes of vanilla, roasted malts, oak, bourbon whiskey, toffee, and roasted marshmallow. Their Mexican Hot Chocolate variant adds lactose, chocolate, vanilla, cayenne and nutmeg to mimic the Mexican treat, which Mexicans have imbibed in since the Aztecs were stuck in caves in Aztlán.
LINK: Peaks & Pints cooler inventory
---