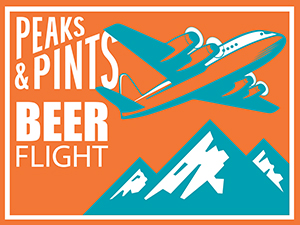 Tomorrow it will be in the mid-90s. And when it gets this hot, there isn't much to do. You can't seek out the closest movie theater for the afternoon show and hide in the darkness like a vampire. You can't book a flight to Antarctica. But, you can float down a river. There are very few summertime diversions as splendid and spectacular as tubing: a voyage that takes you down a sometimes robust and rocky waterway that, at other bends and stretches, slows to a sluggish pace that allows you to examine the leaves in the trees above or the discarded masks on the riverbank. Add to this a beer — a cold, refreshing, buzz-inducing beverage — and you have perhaps the most perfect way to while away a languorous day. Peaks and Pints presents a to-go beer flight for floating, chilling and relaxing. Our to-go flight isn't based on styles or ABVs, but rather what's depicted on the beer's package. No, you go float in a river! We think Peaks and Pints Pilot Program: Chillaxin' Beers On The Fly is a fun idea.
Peaks and Pints Pilot Program: Chillaxin' Beers On The Fly
Level Brewbin'
5.5% ABV
Float trips are a hallmark of a Portland summer. Whether you're a fan of kayaks, canoes or a good ole raft, there's nothing quite escaping into nature and spending a lazy day floating down the Willamette River. Portland brewery Level says this hazy IPA is perfect for "toobin'." Called Brewbin', this session hazy IPA brings bright citrus and coconut hop notes.
Rogue Newport Daze
5.5% ABV, 35 IBU
Newport Daze, Rogue Ales' lighter counterpart to their Newport Nights double IPA, is a hazy pale ale that gives off aromas of pineapple and stone fruit, while featuring tangerine and peach with a slightly sweet and refreshing finish. "The morning after a Newport Night, when we're not busy brewing beer, we would ideally like to hit the beach for some rest and relaxation," says Rogue President Dharma Tamm in a news release. "Newport Daze Hazy Pale Ale is a sessionable day sipper for those lazy mornings with mouth-watering tropical flavors from new world hops."
Stoup In The Meantime
6.3% ABV, 41 IBU
"Seems like folks have a lot of things on their minds and a lot of time on their hands these days," states Stoup Brewing's In The Meantime hype. "We're all looking forward to 'normal' life when we'll hang with friends, take vacations, see a show, sit at a bar and … well you get the gist. We can and should look forward to the good times to come, but in the meantime, feel free to slow your roll, relax your mind and enjoy this tropical fruit, citrus and mango-full IPA with Galaxy, Wakuta, El Dorado, Mosaic, and Citra." Peaks & Pints wishes we could climb into the hammock gracing this can and chillax.
Offshoot Relax [it's just a hazy IPA]
6.8% ABV
Offshoot Beer's Relax [It's Just a Hazy IPA] and Retreat [This Is a Hazy Double IPA] are housed in bright, colorful cans with a person floating on a tube. The name "Retreat" likely references the fact that it's a double IPA rather than the graphic. For the record, Peaks & Pints would rather tussle against the jellyfish on the Retreat can, but we chose the can with the shark. Offshoot, an extension of The Bruery, left Relax unfiltered, fresh and full of hop flavor and aromatics without the bitterness to stand in the way of kicking back with a juicy beer. It features a combination of Citra, Centennial, Simcoe and Amarillo hops, imparting fruity, tropical and citrusy notes to complement the round, soft mouthfeel of a hazy IPA.
---