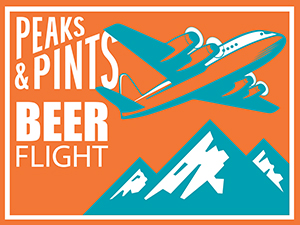 Narrows Brewing and their customers donated one ton of food to the Emergency Food Network to earn the 2020 Hoppy Holiday Food Drive trophy. The 15-barrel brewhouse perched on pilings above the Narrows waterway led a group of other greater Tacoma craft angels — 7 Seas, E9, Grit City Ciderhouse, Odd Otter, Sig, Wet Coast, and Wingman — in raising 3 tons of food as part of the month-long effort conceived by Catie and John Douville of Douville Home Group, and little ol' Peaks & Pints chipping in some addition work. Narrows was crowned Monday night, seven-plus years after Scott Wagner, Gordon Rush, Matt Smith, Thair Jorgenson, and Chris DeWald opened the brewery in 2013. Today, we salute Narrows, and their head brewer Matt Rhodes, with a to-go flight from the Peaks & Pints Cooler — a flight we call Peaks and Pints Pilot Program: Champion Narrows On The Fly. Stop by and spend time with a winner tonight.
Pints Pilot Program: Champion Narrows On The Fly
Narrows Nakatomi Nakatomi Coffee IPA
6.5% ABV
As we have said before, Die Hard is a Christmas movie, and not because Argyle pops a tape of "Christmas in Hollis" into the cassette player on the way to Nakatomi Plaza. The film is a parable about one man's devotion to his family, and the unconditional kindness of strangers, Officer Powell. Narrows salutes the Christmas movie with their Nakatomi Nakatomi Coffee IPA brewed with coffee from Heart Roaster in Portland, and hopped with Mosaic. Expect notes of semi-sweet chocolate and toffee balanced with the berry-ness of Mosaic.
Narrows Nuts and Bolts
11.6% ABV, 20 IBU
Brouwers Café is what all other Washington state craft beer bars are judged. The 16-year-old Belgian-inspired café in Fremont features more than 60 beers on tap and hundreds more in bottles — the best from near and far. Narrows brewed a milkshake-y Nuts and Bolts Imperial Stout with the Brouwers folks, adding oats and finished on Madagascar vanilla beans and two pounds of pecans, walnuts and hazelnuts.
Narrows Come Play With Us Double IPA
8% ABV, 25 IBU
We brought in another round of Narrows' Come Play With Us Double IPA, which is the fourth and final beer in their Halloween series. Inspired by The Shining, arguably one of the greatest horror films ever made, this double IPA focuses on things in twos — logically because of the dead twins in the flick.  Strata hops from Roy Farms in the Yakima Valley and Southern Cross hops from Freestyle Hops in New Zealand offers soft notes of strawberry, lime and a little dankness.
Narrows Tranks, Lobos & Zipheads IPA
7.4% ABV, 40 IBU
As you can surmise, Narrows has its pulse on modern culture with their beer names. In Back To The Future Part II, "Hilldale, nothing but a breeding ground for tranks, lobos and zipheads" was uttered by the Officer Reese character. In the Narrows IPA version, Head Brewer Matt Rhodes utilizes Simcoe oil and dry hops it with Simcoe and Amarillo, for subtle bitterness with notes of dank pineapple.
---