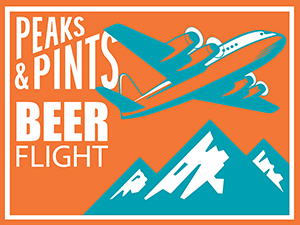 The yins to Cascade's yang, Centennial hops are often used in parallel with the famed citrusy varietal. Centennial hops are sometimes referred to as "Super Cascade" due to their higher bittering properties. They were first bred in 1974 as a cross between many different strains including Brewers Gold, Fuggle, East Kent Golding and Bavarian hops. The name comes from the Washington state Centennial Celebration, which occurred in 1989, just before the public release of Centennial hops in 1990. Though not as aromatic as their smaller, older brothers, their excellent blend of floral and bittering characteristics make them well-suited to extra-hoppy styles. Centennial hops are a centerpiece of today's to-go beer flight that we call Peaks and Pints Pilot Program: Centennial On The Fly. Be sure to grab some of our Centennial hops to float on these Centennial-brewed beers at home.
Peaks and Pints Pilot Program: Centennial On The Fly
Lagunitas IPA
6.2% ABV, 46 IBU
IPA was Lagunitas Brewing's first seasonal, released in 1995. The beer's labels claim it's "made with 43 different hops and 65 various malts," which would be badass if true, if wildly impractical. Cascade and Centennial are in the greatest abundance, and they combine to deliver flavors and aromas of citrus zest, bitter pine, grass, earth and just a pinch of crystal malt to keep the hops in proportion.
Tacoma Cigar Box IPA
8% ABV, 50 IBU
Morgan Alexander brewed beer in high school. He used Baker's yeast and apple juice, which Alexander says was horrible. He kept the lab coat on, home brewing with unusual ingredients for years before converting his beloved Tacoma Triangle District Amocat Cafe into Tacoma Brewing Company, a tiny taproom that he eventually abandoned for a ginormous space up the street. His reoccurring Cigar Box IPA is aged on Spanish cedar opening an aroma of cedar, vanilla, tobacco and sandalwood. The rich, mellow, spicy hint of wood receives a puff of grapefruit, thanks to Chinook, Simcoe, Cascade, and Centennial hops.
Two Beers Fresh Hop IPA
6.2% ABV, 70 IBU
Two Beers Brewing Co. continues its tradition of releasing the first Fresh Hop IPA of the season. First brewed in 2009, Fresh Hop IPA enters its ninth season on the Two Beers lineup, remaining one of the Seattle-based brewery's most popular releases. A true labor of love, Fresh Hop IPA is made with fresh Centennial hops from fifth generation hop farmers, Puterbaugh Farm in Yakima Valley. Two Beers traveled to Yakima to harvest hop bines by hand. The hops were handpicked by dozens of staff and volunteers on the brewery dock; the process allows Two Beers to go from hop bine to brew in less than 24 hours for an exceptional finished product, for a technically wet hop. This year's Fresh Hop is, once again, brewed with Centennial, giving the brew a juicy citrus aroma balanced with a delightfully bitter finish.
Stone Ruined Again Triple IPA
10.8% ABV
In 2002, Stone Brewing introduced the 100-plus IBU Stone Ruination IPA as the first year-round West Coast double IPA on the planet. Then in 2012, in commemoration of its 10th anniversary, Stone introduced a new beer that would grow to be known as Stone RuinTen Triple IPA. This past spring, Stone did it again, or rather Ruined Again, a triple IPA brewed with the same ingredients as in their classic Stone Ruination IPA, but bumped up the malt to achieve its elevated 10.8 percent ABV. And, of course, they jacked up the hops as well. Not just in the boil, but they doubled the dry-hop amount, using a 50/50 blend of Centennial and Citra, for smack dab in your face lupulin punch.
---