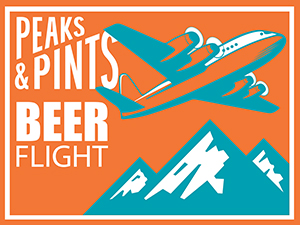 Let's address the obvious: even though the brown ale is named for its color, things aren't quite that simple. To begin with, the hues of this commonly misunderstood style can actually range anywhere from dark copper or amber to deep brown or sometimes ruby. The term itself was first coined by London brewers and referred to a whole family of classic British varieties, such as their mild ale in the early 18th century. There are really two types of brown ales nowadays — the more traditional British brown and its Americanized cousin. British browns can be dark, rich and nutty, and sport strong malt characteristics and most are brewed from 100 percent brown malt. American Browns share their British brethren's caramel tones and rich malt backbone, but tend to be markedly hoppier. Most brown ales are traditionally lower octane affairs and are drinkable by design. Peaks and Pints happens to have the most brown ales in our craft beer lodge since we opened Nov. 1 2016. Therefore, it seems fitting to offer a to-go flight of brown ales — a flight we call Peaks and Pints Pilot Program: Brown Ales On the Fly.
Peaks and Pints Pilot Program: Brown Ales On the Fly
AleSmith Nut Brown
5% ABV
Brown ales are a natural match for winter drinking, and AleSmith Nut Brown fits the bill. Deep mahogany in color, its rich, malt-forward flavor profile balances notes of toasted nuts, creamy cacao and a hint of vanilla. A creamy mouthfeel and full body enhances its drinkability, making Nut Brown an extremely sessionable winter sipper that's not as heavy a winter warmers.
Structures Forest King
5.2% ABV
English Brown ales are copper to dark brown, medium-bodied beers. They offer mild maltiness with caramel, biscuity and sometimes toasted qualities and commonly range from 4.2 to 6 percent ABV. Style aficionados distinguish between the northern English brown with its light nutty accents and the southern English version that's a little darker and sweeter. Structures Brewing's traditional English pub style brown ale falls more into the southern style with a dry and ashy nose. Flavor follows the same lead as the aroma but offers more depth and complexity with a rounder nutty undercurrent and some dry bitter bakers chocolate.
Rogue Hazelnut Brown Nectar
5.6% ABV, 33 IBU
Oregon produces nearly 99 percent of all American hazelnuts. It's the official state nut. It also boasts 230 craft breweries. Naturally, these local goodies make their way into a few beers around the Beaver State, including Rogue Ales' Hazelnut Brown Nectar. At 1993's American Homebrewers Association convention, Rogue Brewmaster John Maier tasted a brown ale with an unusual twist. His pal Chris Studach had added hazelnuts, an addition that later inspired the Oregon brewery to create the rich, malty, and medal-winning Hazelnut Brown Nectar. Its aroma is hazelnut, strong toasted malts, caramel and chocolate. Flavor opens very mild and thin, developing sweet hazelnut notes mixed with some toasted malt.
Wet Coast Bottleman Brown
6.3% ABV, 25 IBU
Wet Coast Brewing has a love affair with the Prohibition era. In the 1932 presidential election, King, Pierce, and Spokane counties voted "wet," meaning those citizens voted for Democrat Franklin D. Roosevelt and his desire to bring back the drinkies, instead of Republican Pres. Herbert Hoover's desire to keep "the noble experiment," Prohibition. Thus the name Wet Coast. In addition, Wet Coast beers give a nod to Prohibition days, for instance a "bottleman" was another name for a bootlegger —a person who makes or sells alcoholic liquor illegally.  Bottleman Brown is an American style brown ale brewed with copious amounts of Chocolate malt, providing a roasty aroma with a sweet, nutty flavor.
Surly Coffee Bender
5.1% ABV, 25 IBU
In December 2005, entrepreneur/beer lover Omar Ansari and veteran brewmaster Todd Haug began kicking out Surly Brewing beers from their blocky little brewery tucked into the industrial hinterlands of Brooklyn Park, Minnesota. Their first beer was Bender, an oatmeal brown ale. Coffee Bender followed years later brewed with Guatemalan coffee for cold press coffee aromatics and intense coffee flavors are balanced by the oats in the malt bill, resulting in a cappuccino-like creaminess.
Big Sky Moose Drool Brown Ale
5.1% ABV, 26 IBU
Sure, the name is slightly revolting, but once you get past that, you are in for a treat. Big Sky Brewing's Moose Drool Brown Ale is brewed with pale, caramel, chocolate, and whole black malts balanced with Kent Goldings, Liberty and Willamette hops. Hints of robust toffee and honey swirls around the nose mostly from the malt with a hint of spice added by the hops. On the tongue, brown sugar and chocolate blend perfectly finishing with a clean bitterness and slightly dry, but not harsh.
Avery Ellie's Brown Ale
5.5% ABV, 28 IBU
T'was 26 years ago that Adam Avery (blessed be his name), smiled upon Boulder, Colorado and the world at large by opening Avery Brewing, which begat White Rascal Ale, which begat Out of Bounds Stout, which begat Ellie's Brown Ale. This beautiful, deep russet brew has the sweet and somewhat nutty character of Avery's late (1992-2002) Chocolate Lab, for which it is named. Avery adds Cluster hops at the beginning of the 60-minute boil primarily to add bitterness. Cascade and Fuggles hops are added at the middle and end of the boil respectively for their aromatic contributions. Ellie's Brown has a rich maltiness with a complex caramel and roasted combination in the flavor profile for a lovely, balanced beer.
DuClaw Dirty Little Freak
5.8% ABV, 30 IBU
DuClaw Brewing Dirty Little Freak Coconut Caramel Chocolate Brown Ale, first brewed in 2014, takes the traditional American brown ale and gives it a sensual new twist — coconut. This medium-bodied, brown is a feast for the senses from its dominant blend of warm, roasted malt, coconut, caramel, and chocolate flavors barely restrained by a gentle hop bite, to its tantalizingly satisfying finish. Coconut gets its freak on the most, followed by caramel and chocolate.
Triceratops Banjo Dog Brown Ale
6% ABV
Light and smooth, Triceratops Brewing Banjo Dog Brown Ale starts with the inviting aroma of dark fruit, toasted grain, and dry roasted nuts. Oats add just enough creaminess, while layers of English malts lend subtle notes of chocolate and a dry, bready finish.
---