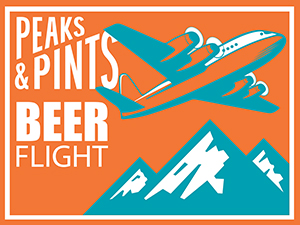 If you are like most, identifying trees is a challenge and there are only two categories of trees that exist to you: 1) pine, like a Christmas tree; 2) not pine. Pine trees are evergreen, coniferous resinous trees growing 10-260 feet tall, with most species reaching 50-150 feet tall. Pines are long-lived, some shooting their first roots well before Jesus, before Rome, before most forms of civilization whatsoever. And the extra oxygen? Yes, pines filter countless pounds of CO2 though all those sun-dappled branches to make us healthier, And happier. Because of pine trees. We mean, clearly. Sadly, many millions live nowhere near a good, healthy clump of pine trees, much less a deep, funky forest that, within minutes of entering, works some feral voodoo on your id and makes you realize, with a profound karmic thump, "I just might have this rat-race thing all wrong." The only pine in those sad people's lives are pine IPAs. Ah, you knew that was coming. After all, this little ditty is all about today's beer flight, which is, obviously, Peaks and Pints Pilot Program: Brewski Brewski How You Get So Pine. Yes, we are talking bold, hop-forward IPAs straight from the forests of the Pacific Northwest, with pine and citrus aromas. Pine/piney flavors are most found in IPAs brewed with high amounts of American hops. Many American hop varieties have some pine character to them, such as Cascade hops, which can produce a nice mix of pine, grapefruit, and citrus flavors. For bolder flavors of pine, look for IPAs brewed with Simcoe, Chinook, or a combination of both hops. Some examples of commercially brewed craft beers using these hops are in today's craft beer to-go flight.
Peaks and Pints Pilot Program: Brewski Brewski How You Get So Pine
Little Beast Pinetop
6.4% ABV
In April 2015, Charles Porter left Logsdon Farmhouse Ales to open Little Beast Brewing two years later with his business and life partner, Brenda Crow, a cheesemaker. Their Pinetop West Coast IPA is packed with Centennial, Mosaic and Chinook hops for aromas of pine and resin, lush notes of grapefruit and a subtle woodsy character.
Grains of Wrath Ripsaw
6.5% ABV
Early 2007, four Dutch heavy metal musicians from a small town called Nederweert formed Ripsaw. The band is heavily influenced by classic trash metal bands such as Sacred Reich, Slayer and the mighty Pantera. Since hops aren't a thing in the Netherlands, Grains of Wrath went south to New Zealand for hops for their West Coast IPA, Ripsaw. American hops are added for combined pungent and resinous notes of pine, tangerine, peach, strawberry, and gummy bears.
Fort George Magnanimous IPA
7% ABV
Magnanimous IPA is a yearly offering, a joint effort once again between Fort George Brewery and Earth & Sky Farm in Oregon City. Brewed with real Grand fir Christmas trees, the IPA is a straight-up ode to one of the more pungent essences of the Christmas tradition. Hundreds of pounds of fir tips were picked, packed, and vacuum-sealed into 10-pound bags. We're not sure if "O Tannenbaum" was blasting from the truck's speakers, but we do know the fir was trucked back to Astoria and delivered to a dedicated chest freezer located in the basement of Fort George co-owner and brewer Chris Nemlowill's home. It's safe to assume the fir tips were nestled all snug in the basement, while visions of Magnanimous IPAs danced in Nemlowill's head. When in the brewery there arose such a clatter, Earth & Sky Farm owners Tim Ensign and Jana Daisy-Ensign sprang from their bed to see what was the matter. Magnanimous IPA hit the kettles with generous amounts of hand-harvested Grand Fir trimmings and bountiful additions of Simcoe and Chinook for a noble blend of lush piney hops, spruce tips, mint, dankness, and a bit of floral hop.
Hellbent Everglow Winter IPA
7.5% ABV, 60 IBU
May 30, 2015, longtime friends and restaurant industry veterans Jack Guinn, Chris Giles, and Randy Embernate opened Hellbent Brewing Company in Seattle's Lake City neighborhood. For years they homebrewed and toiled over their business plan. Then, they met Brian Young — award winning brewer, co-owner, and fast friend — who turned out to be the missing link. Their Everglow Winter IPA is brewed with pale malt and a touch of wheat and caramel malts and hopped with Simcoe, Azacca, and Chinook hops with spruce tips added. It's a light coppered beer with fruit and berry flavors intertwined with pine and spruce.
Block 15 Sticky Hands World Tour
8.1% ABV
Block 15 Brewing begins their Sticky Hands World Tour traveling the US picking up Nugget hops from the Willamette Valley, Citra hops from Yakima Valley, and a final stop in the mountain regions of the Southwest Washington to pick up Talus hops. Then, the tour jumps overseas for UK Goldings, German Hallertau Blanc, and a grand finale of New Zealand Rakau before returning home to Corvallis, Oregon, to brew this piney, dank, resinous double IPA, 8.1%
LINK: Peaks & Pints cooler inventory
---