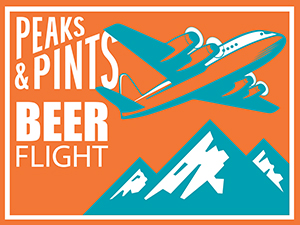 In 2010, Boneyard Beer was launched in an old auto shop tucked away in the backstreets of Bend, Oregon's historical district. Without any outside investors or major bank loans, Boneyard's inception was unconventional to say the least. After decades in the brewing industry, owner Tony Lawrence built up a "boneyard" of old equipment he collected from 13 different breweries around the country. Alongside co-founders Clay and Melodee Storey, this second-hand brewing equipment was pieced together to brew the first batch of Boneyard Beer in May 2010. In July 2018, Boneyard opened a new taproom at 1955 NE Division Street in Bend; the location was formerly a Chinese restaurant as well as a Texas Hold'em poker room and a short-lived taqueria. Like many breweries during the pandemic, Boneyard decided to finally can their beer. Today, Peaks & Pints celebrates their cans in our cooler with a to-go Boneyard flight we call Peaks and Pints Pilot Program: Boneyard On The Fly.
Peaks and Pints Pilot Program: Boneyard On The Fly
Boneyard Diablo Rojo
5.5% ABV, 30 IBU
Boneyard's Diablo Rojo is not a malt bomb. First, the Cascade hops in this red ale are Oregon-grown on Crosby Hop Farm, and have a lighter, more delicate flavor than their acidic cousins from the high desert of Yakima. Second, this deep amber ale is extremely well balanced and very drinkable. Yes, the taste is caramel malts, subtle grassy hops and piney resin — but, again, all well balanced and easy drinking. It appeals both to the hop lover and non-hop lover.
Boneyard Incredible Pulp
6% ABV, 35 IBU
Originally introduced in May 2016, Boneyard Beer Incredible Pulp Blood Orange Extra Pale Ale is brewed with blood orange puree sourced from Oregon Fruit Products — specifically 5 pounds of blood orange puree per barrel of beer. Blood orange adds the bright orange flavor without too much sweetness, and just enough tartness. A mild grain bill with citrus hops and blood orange really makes the Incredible Pulp pop.
Boneyard Skunkape
6.2% ABV, 40 IBU
Skunk Apes, named for their foul stench, are said to be between 6 and 8 feet tall with short hair covering their bodies. Unlike the five-toed Bigfoot, Yeti, Sasquatch and the Abominable Snowman allegedly seen in other parts of the world, Florida's Skunk Apes have four toes and climb trees where they sleep on homemade mats. Boneyard named their lightly sweet India red ale after the Florida creature, a collaboration with Lib Tech snowboarding, brewed with Cascade, Bravo, CTZ, Eureka, Simcoe, and Super Galena Hop Oil for bitterness of citrus rind and a touch of pine.
Boneyard RPM IPA
6.5% ABV, 50 IBU
Boneyard's flagship RPM IPA sports a classic West Coast piney/resin nose, redolent with some grapefruit and tangerine thrown in for good measure. It has a sweeter, malty side created with pale malt, Munich malt, Aromatic malt, Vienna malt, and dextrose with a hint of honey and caramel that transitions quickly to a very solid, but not overdone bitterness with the mid-palate flavors of pine, grapefruit, apricots and faint honey, thanks to six different Northwest varieties of hops at more than 2.5 pounds per barrel. It's neither very strong, nor ultra-hoppy, so fitting somewhere near the median point in flavor profile.
Boneyard Hop Venom
9% ABV, 60 IBU
With 4.5 pounds of hops per barrel Boneyard's West Coast double IPA will strike your nervous system with a venomous mix of Centennial, Simcoe, Chinook, and CTZ. Hop Venom's delicate malt profile allows the double dry-hopped aroma of tangerine and pine to dominate. The smooth, creamy bodied Hop Venom is well balanced with super fresh hop character, pine and tangerine flavors but really well balanced that hides the alcohol. It's known as a dangerous IPA for a reason.
---