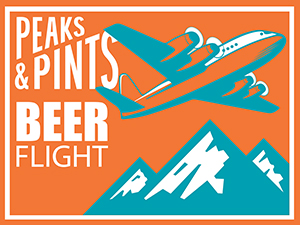 Beer purists typically scoff at a brew that incorporates anything into its recipe besides water, malt, hops, and yeast. Offer them a beer with fruit in it and you're bound to hear a speech on the German Beer Purity Law of 1516. But if one can get past traditionalist approaches to drinking beer, they might find that fruit can be a fantastic brewing ingredient — especially with the addition of vanillas. Today's Peaks and Pints to-go flight focuses on blueberries and vanilla. Oh, vanilla — one of the most prized spices in the world, and we think it's worthy of its place. Its deceptively simple woody and sweet flavor is a worthy underscore to the sweetness in blueberries. Stop by Peaks for our to-go blueberry and vanilla beer flight, Peaks and Pints Pilot Program: Blueberry Vanilla Beer Flight.
Peaks and Pints Pilot Program: Blueberry Vanilla Beer Flight
Unsung Blue's Cruise
6% ABV
Ohio native and Unsung Brewing founder Mike Crea — who is certified by the Cicerone Program and earned a diploma in brewing technology from the Siebel Institute in Chicago — brews small batches of craft beer in Tustin, California, but sells most of them up north from a modernized century old marmalade factory in Anaheim, the sudsiest town in Orange County. Founded in 2015, comic book fan Crea added another sour to his Psionic Sour Series — the blueberry and vanilla Blue's Cruise.
Imprint Schmoojee Strawberry Blueberry Vanilla Cake
6% ABV
Ryan Diehl and Richard "Sid" Sidman opened Imprint Beer Company in Hatfield, Pennsylvania, in September of 2018. Located in Montgomery County just north of Philadelphia, Imprint immediately had to increase their brewhouse size due in part to their creative hazy IPA, luscious stouts, and mind melting Schmoojee fruited sour with lactose series such as Strawberry Blueberry Vanilla Cake. This heavily fruited smoothie style sour ale is brewed with real strawberries and blueberries, plus lactose and fresh baked vanilla cake.
Black Raven Kitty Kat Blues
5.8% ABV, 35 IBU
From Redmond, comes this Black Raven Brewing unassuming pale ale that has the screws turned a bit with additions of dried blueberries, vanilla bean and, originally, organic mountain-grown catnip, but has since been substituted with hibiscus. The result is an easy drinking pale ale that finishes like this morning's blueberry muffin with, of course, vanilla, dry bittering hops and hibiscus.
LINK: Peaks & Pints cooler inventory
---