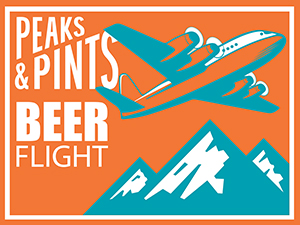 It's National Black Forest Cake Day! The English name of this is famous cake is Black Forest Cake or Black Forest Gateau. In Germany, it is called "Schwarzwälder Kirschtorte," that literally translates to "Black Forest cherry-torte." The cake has many layers of chocolate sponge cake, whipped cream and cherries. It is decorated with additional whipped cream, cherries and chocolate shavings. It is truly not a black forest cake unless the layers have been added with "kirschwasser," which a clear spirit made with sour cherries. Many people think it is named after the Black Forest. However, it is really named after the specialty liquor of that region, Kirschwasser, which is a clear brandy produced by a morello cherry fermentation process. Peaks & Pints celebrates this important holiday in the only way we know how, Peaks and Pints Pilot Program: Black Forest Cake On The Fly — a to-go flight of bottles and cans of chocolate and cherry craft beer. Be well!
Peaks and Pints Pilot Program: Black Forest Cake On The Fly
Verhaeghe Chocolate Cherry Duchesse de Bourgogne
6.7% ABV, 11 IBU, bottle

Brewed by Belgian Brouwerij Verhaeghe, Duchesse de Bourgogne is a Flanders red ale, a blend of 8-month-old and 18-month-old ales, in this case. As with all red ales, the drink gets its characteristic sour and tart quality from lactic acid, while aging in oak barrels imparts a deeper body. The drink is named for Duchess Mary of Burgundy, a filthy-rich medieval heiress who suffered an unfortunate (and deadly) fall from her horse — it happens. This ruby-hued sipper boasts notes of tart plums, black cherries, and that funky, yeasty finish every sour fan demands — that is, until Verhaeghe adds Belgian chocolate and cherries. Cherry Duchesse de Bourgogne is aged in oak casks, and utilizing whole cherries from the Limburg region of Belgium and chocolate.
Rogue Cherry Choctabulous
8.4% ABV, 30 IBU, bottle

Cherry Choctabulous, a new addition to Rogue's seasonal line-up, drinks like a cherry cordial in a bottle. This rich and creamy milk stout opens with a luscious cherry aroma and flavor that quickly gives way to indulgent and satisfying notes of dark chocolate. Sweet aromas of chocolate and cherry are prevalent on the nose, the initial hit of cherry gives way to dark chocolate that fills out the mid palate, finishing with one last blast of cherry before ultimately resigning with the slightly bitter lingering bite of the dark chocolate.
Great Divide Chocolate Cherry Yeti
9.5% ABV, 60 IBU, can

Great Divide has been fairly conservative over the years about messing with its signature Yeti Imperial Stout, adding only a few variations every couple of years or so; these have included Chocolate Oak Aged Yeti, Espresso Oak Aged Yeti, Oatmeal Yeti and the draft-only, lower-ABV Velvet Yeti Nitro. Chocolate Cherry Yeti seems like a no-brainer. The roasty malt backbone of Yeti melds perfectly with the cherries and cacao to make this one smooth sipper.
Oakshire Heart Shaped Box
12% ABV, 69 IBU, bottle

From Oakshire Brewing's Vintage beer series, the 2018 Heart Shaped Box version is aged in Kentucky bourbon barrels for six months where it develops its complex flavor profile and character. The beer is further conditioned with generous amounts of sweet Oregon grown cherries, locally roasted coffee from Slightly Coffee Roasters, organic vanilla beans and cocoa nibs. Indeed. Notes of rich bourbon, cocoa nibs, espresso, dark cherry, roasted malt, vanilla bean and wood coat the tongue. It's rich yet crushable at the high percent.
---