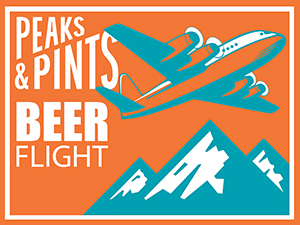 It's not bizarre to desire lower alcohol beers to spend more time with friends. Actually, it is bizarre. Two veterans of the Seattle beer scene opened Bizarre Brewing with the goal of brewing lower ABV beers in a bona fide community space. Derek Brown and Colette Boilini met working at Fremont Brewing in 2014. Boilini has also served at Holy Mountain and both Cloudburst locations. Brown was the first outside brewing hire at Holy Mountain where he went on to lead their respected barrel-aged beer program. Bizarre Brewing hosts pop-up shops Friday through Sunday at their future taproom location — the former home of Urban Family Brewing in Seattle's Magnolia neighborhood. Today, Peaks & Pints presents a to-go flight of Bizarre Brewing beer — a flight we're calling Peaks and Pints Pilot Program: Bizarre Brewing Beer Flight.
Peaks and Pints Pilot Program: Bizarre Brewing Beer Flight
Bizarre Garlands – Strata Fresh Hop West Coast Pilsner
4.8% ABV
Garlands is a fresh hop West Coast pilsner that starts out with a simple grain bill of German pilsner malt and flaked barley. Bizarre begins the hopping in the mash with fresh Strata hops from Crosby Farms, before more additions in the whirlpool. Garlands is then fermented cold with their house lager strain. Next, they dry hop it with even more Strata hops before spunding for natural carbonation and allow it to mature cold for an additional four weeks.
Bizarre Television People
4.8% ABV
Turn on this refreshing Kölsch-weisse ale infused with coriander and lemon peel. Brewed with German pilsner and wheat malts and hopped in the kettle with Hallertau Mittelfrüh and Centennial hops, this beer is then fermented cold with a familiar German ale strain before a long cold condition.
Bizarre Teenage Jesus
4.2% ABV
A riff on an English ordinary bitter, Teenage Jesus is mashed with a base of pale English malt, flaked barley, CaraMunich and a portion of caramelized oat malt, then hopped with East Kent Golding, Challenger, and Comet hops. Once Teenage Jesus has cooled down they pitch their favorite English ale strain and allow it to ferment before spunding to naturally carbonate.
Bizarre Bubble Bubble
5.2% ABV
Bubble Bubble is a little rotating hopped pale ale brewed with a large amount of flaked and malted oats and fermented cool with their hoppy house ale strain. This version is hopped in the kettle with Cashmere, Citra, Motueka, and Chinook hops, then dry hopped with even more Cashmere, Citra, and Motueka.
LINK: Peaks & Pints cooler inventory
---