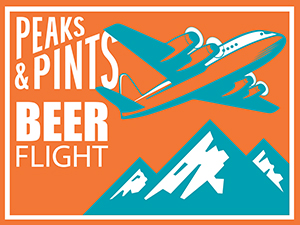 Malt is the meat and potatoes of beer. Barley malt, specifically, is the "meat," that's been germinated in water and then air-dried to develop the sugars and enzymes, so beer yeast can consume it and produce alcohol and CO2. Malt is the primary source of beer color and contributes significantly to flavor and mouthfeel. Let's say "potatoes" are lesser-used malted grains such as wheat, rye, and oats, but go through the same process as barley. Since it's National Biscuit Day, Peaks and Pints focuses on biscuit malt and/or biscuit flavors for today's to-go bottled and canned beer flight, Peaks and Pints Pilot Program: Biscuit Beer On the Fly.
Peaks and Pints Pilot Program: Biscuit Beer On the Fly
Crux Pilz
5.2% ABV, 35 IBU
The return of hot weather tends to bring with it a desire for light, crisp, session beers — ones that quench your thirst without being too heavy or intoxicating: pilsners. The pilsner style has been seeing something of a revival among craft brewers in recent years. One of the best comes from Bend, Oregon. Modeled after the German style, Crux Fermentation Project's Pilz is crisp and clean, with complex biscuit maltiness and spicy, earthy hops. A somewhat unique pilsner with its flowery bouquet, but it hits all the right style points.
Breakside Pilsner
5.2% ABV, 35 IBU
First brewed in 2012, Breakside Brewery's Pilsner hits the nose with bready, grainy pale malt, white soup crackers, subtle apple and pear fruit notes, slightly edgy yeast, and peppy leafy, herbal, and rather floral hop bitters. Yet, it glides in with grainy malt flavors that build a solid, biscuit foundation, on which is perfectly balanced a classically floral German hop profile. It's not a loud mouth. It's not trying to steal your girlfriend. It's just a very well balanced German-style pilsner — a clean, thirst-quenching lager.
Buoy Czech Pilsner
6.2% ABV, 35 IBU
Arborist Luke Colvin coaxed client, longtime homebrewer and lager specialist Dan Hamilton to open Buoy Beer Co. with his brother-in-law David Kroening, business advisor Jerry Kasinger and businessman Andrew Bornstein, who had a 90-year-old cannery building in Astoria, Oregon, on the wasterfront. The rest, as they say, is history. Buoy Beer makes some of the finest light lagers in the state, including a clean and biscuity Czech Pilsner that's become a staple all over Oregon, and Peaks and Pints. It hits the nose with grainy biscuit malt and grassy hops — not complicated, but on style. Flavor is biscuit malt, grassy and slightly citrus hops, lemon, hints of honey, and mixed grain spiciness.
Ferment India Pale Ale
5.8% ABV, 65 IBU
Carefully crafted to fully express its curated hops and yeasts, Ferment Brewing's India Pale Ale brings the hops without being buried by bitterness. The biscuity, lightly sweet malts and fruity, dry yeast notes impart an herbaceous aroma to give the ale a complex nose of peach, tangerine, and red cedar.
Icicle Bootjack IPA
6.5% ABV, 64 IBU
Icicle Brewing Co. sits in the Bavarian theme park known as Leavenworth, which seems perhaps the most appropriate place for a brewery. The brewery draws their water from nearby Icicle Creek, a run-off from surrounded by numerous mountain ranges including the Stuart Range and Wenatchee Mountains. Owner Oliver Brulotte has deep family roots in Washington's hop farming history. Their Bootjack IPA is refreshing. It's hop forward with some biscuit malt notes and a resinous linger. This isn't a pine bomb; instead you get smooth citrus and lots of fruit.
---