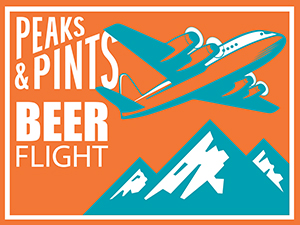 Bend Brewing Co. was established in 1995 and is the second oldest brew pub in Bend. Located in historic downtown Bend, right on Mirror Pond, the ownership changed close to five years ago when Packy and Leslie Deenihan purchased the beloved brewery from Wendy Day. Since its purchase the new owners have added a massive outdoor space, added a northeast Bend production facility and hired former Three Creeks Brewing head brewer, Zach Beckwith. Prior to joining Three Creeks, Beckwith brewed at the former New Old Lompoc on Northwest 23rd Avenue in Portland. Beckwith brews some pretty avant-garde beers, as well as having one of Oregon's first successful sour-beer brewing programs. One of the best decisions the Deenihans made is opening up distribution into Washington state. Bend Brewing cans have arrived at Peaks & Pints and a to-go beer flight is in order. Stop by for Peaks and Pints Pilot Program: Bend Brewing On The Fly.
Peaks and Pints Pilot Program: Bend Brewing On The Fly
Bend Ching Ching
4.5% ABV, 5 IBU
Ching Ching Berliner weisse starts with a base of German pilsner and wheat malt and is kettle soured using Bend Brewing's house Lactobacillus culture. Organic Hibiscus flowers are added in the whirlpool staining the beer a striking pink hue and contributing floral aromatics before a final addition of pomegranate in the fermenter. Wonderfully tart and effervescent, Ching Ching is effervescent with a SweeTART tanginess.
Bend Trade War Export Stout
7.5% ABV, 31 IBU
This foreign style stout is brewed with a blend of Golden Promise and Canadian two-row, six different specialty malts and flaked barley. The mouthfeel is slick and full, rich and oily. The aroma of coffee and chocolate hit first, followed by toasty malts and a slight hoppy scent. The taste stouts full of dark malt flavor, coffee, burnt caramel and decadent chocolate. The finish has a sneaky chocolate milk-esque attack that slides in and lingers a bit after the flavor evolution.
Bend Killer Stache 2.0
5.5% ABV, 40 IBU
Part of Bend Brewing's The Pub Series, which allows them to release small batch beers that would normally only be found at their downtown Bend brewpub to a wider audience, Killer Stache NW Pale Ale began as a revival of the classic American pale ale and has evolved into a modern Northwest pale with Citra and Amarillo to remind us all that the defining fruit and citrus punch of this classic hop combination still "resin"-ates all these years later.
Bend Tropic Pines
6.5% ABV, 65 IBU
Brewed with English base malt and Simcoe, Mosaic and Falconer's Flight hops, Tropic Pines is just that — a tropical fruit and pine forward IPA. Dip your nose in for resinous pine, citrus and tropical fruit. On the tongue, the citrus and pine remain with additional orange, grape, and strong malt. The finish is bitter, but never overpowers.
Bend Urgent Fury IRA
6.8% ABV, 70 IBU
Part of Bend Brewing's High Desert Hop Series, Urgent Fury India Red Ale is the culmination of more than a year's development to craft a beer showcasing malt and hops equally. German Caramunich and CaraRed malts impart a deep red hue and full malt character, while the absence of crystal malt prevents the beer from becoming cloying and muddling the hops. They first tried to contrast the malt character with classic piney hop character before deciding to lean into the malt sweetness and utilize fruity tropical Citra to complement the malt. Amarillo, Simcoe and Cascade hops round out the hop bill, giving it a little pine and a bitter finish.
---