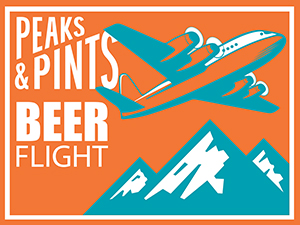 Competition is fierce when it comes to making alcohol. In the wine industry, collaborations amongst vintners are few and far between. One would be just as hard pressed to find two coffee roasters willing to join forces to brew the perfect cup. And good luck finding a maker of vodka, whiskey, or rum who's clamoring to blend his or her sacred liquid with that of another distiller's. But craft beer breweries have been collaborating with one another on everything from recipes to bottle artwork for decades. The best craft beer collaborations often result in something unique that neither brewery would normally make on its own — which brings us to a new local craft beer release Rising Tide. There's an old saying: "A rising tide lifts all ships." That concept isn't limited to boats in Commencement Bay, it applies to the local beer scene, too. Tonight, Peaks & Pints hosts a local release party for Rising Tide, a cherry Baltic Porter brewed by 7 Seas Brewing and Wet Coast Brewing. The two breweries — both launched in Gig Harbor — will be in the house tonight to celebrate Rising Tide, along with their other beer on tap, including their house IPAs ran through Peaks & Pints new Randall loaded with holiday ingredients. In celebration, Peaks & Pints presents a to-go flight of 7 Seas and Wet Coast beers — a flight we're calling Peaks and Pints Pilot Program: Beer Aquatic On The Fly.
Peaks and Pints Pilot Program: Beer Aquatic On The Fly
7 Seas Heidelberg Premium Lager
4% ABV, 18 IBU
In August 2016, Mike Runion and Travis Guterson open their 80,000-square-foot new 7 Seas brewery and taproom in a downtown Tacoma building where Heidelberg Brewery previously bottled and shipped its beer. Last month, the duo relaunched the Heidelberg brand canning their version premium lager similar and canning it like the original Heidelberg brewery — although not tin cans like the original brewery in 1936, three years after tin cans were invented. Brewed with mostly malted barley, with some rice and corn, and Old-World hops, Heidelberg Premium Lager is crisp, clean, and quaffable.
Wet Coast Hi Jack! Red Ale
5.5% ABV, 33 IBU
Wet Coast's name is a triple entendre: 1. West Coast, 2. Northwest weather, 3. Prohibition, where citizens voted wet or dry. In 1920, the United States has just enacted the Volstead Act, prohibiting the production and consumption of intoxicating liquors. Bottles were smashed, babies cried, and Americans everywhere were forced to be "dry" and live a life without beer. That is, everywhere but Washington state. Lt. Roy Olmstead with the Seattle Police Department began smuggling alcohol from Canada and soon enough Washington wouldn't just be a rainy state out west, it would become the Wet Coast. Many Wet Coast beers give a nod to Prohibition days, including Hi Jack!, which was used in speakeasies as a code word for law enforcement. Hi Jack!, the red ale, is brewed with Crystal and Black malts for a deep red hue and smooth body. Centennial hops provide floral and citrus notes with a small amount of bitterness to balance the beer.
Wet Coast On The Sly Cold IPA
6.9% ABV, 55 IBU
Cold IPAs are brewed with add adjuncts such as rice and corn in the mash, fermented with lager yeasts at higher temperatures than traditionally done with lager yeasts, and dosed with dry hops at the tail end of fermentation for biotransformation for a crispy, clean, and dry IPA with a wallop of forward hops. Wet Coast's version is brewed with Pilsner malt, corn, and American hops, then warm fermented with lager yeast, for characteristics of a clean American lager and the boldness of a West Coast IPA.
7 Seas Black IPA
7% ABV, 65 IBU
Mike Runion and his business partner and brewmaster Travis Guterson took their beloved 7 Seas Brewing back to the future in August 2016. From their humble beginnings in 2008, to the 2009 fire relocation, to the 11,000-square-foot-building in downtown Gig Harbor, demand for their craft beers forced the duo to constantly think bigger. Aug. 10, 2017, they went huge opening an 80,000-square-foot new brewery and taproom in a downtown Tacoma building where Heidelberg Brewery previously bottled and shipped its beer. Heidelberg didn't brew a Black IPA, but 7 Seas did. 7 Seas Black IPA is brewed with De-husked Black malt and generously hopped with Nugget, Centennial, and Simcoe for layers of hop character nicely balanced by a hint of roast and a smooth lingering finish.
Wet Coast Fixed the Newel Post
8.5% ABV, 70 IBU
The imperial red ale style (sometimes called a double red ale) is medium- to full-bodied and known for strong hop bitterness, aroma, and flavor. While the hoppiness can be intense, the bitterness and underlying malty tones blend with the alcoholic strength of the beer to lend a spicy complexity to the flavor profile. Wet Coast brews this imperial red ale with Caramel and Crystal Rye malts for sticky-red-sweetness with enough hops for resinous pine and juicy citrus flavors and aromas.
7 Seas 2021 Barrel-Aged Barleywine
11.8% ABV
This year's version was aged 12 months in rye whiskey and whiskey barrels for warm and sensational flavors accompanied by a hint of spice from the rye barrels from which it came. Expect notes of caramel and dried fig.
LINK: Peaks & Pints cooler inventory
---
Category:
Beer Line Blog
,
Craft Beer
,
Critical Drinking
,
Events and Festivals
,
Houses of Craft
,
In The Cooler
,
Peaks and Pints Lodge Meetings
,
Peaks and Pints Pilot Program
,
Proctor District
,
Shop
,
South Sound
,
Specials
,
Tacoma events
,
Tacoma Strong
,
Taps Takeovers